The Philadelphia Eagles might not win another Superbowl title this year, but it doesn't mean they aren't trying to finish out the season strong. The Eagles (6-6) beat the Washington Redskins (6-6) 28-13 Monday night.
Eagles quarterback Carson Wentz was back in the groove last night throwing two touchdowns and keeping the Eagles in the contest for the NFC East title.
Game Recap
The Eagles started off scoring in the first quarter with a pass from 6-yard touchdown pass from Wentz to Golden Tate.
However, it looked like the Redskins weren't doing so bad when Adrian Peterson ran 90 yards for a touchdown in the second quarter to give Washinton a 10-7 lead.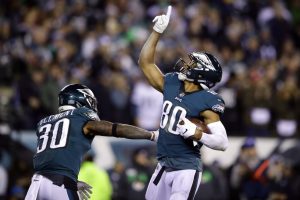 It was met quickly with a Darren Sproles 14-yard touchdown run to put Philadelphia up 14-10. This was Sproles first TD since Dec. 22, 2016.
The fourth quarter truly sealed the deal for the Eagles as Wentz threw a 4-yard touchdown pass to Jordan Matthews and then connected with Tate for the 2-point conversion. It was done right then and there for the Redskins.
Two field goals from Jake Elliott in the fourth would give the Eagles their final score of 28-13.
Wentz threw 27 of 39 for 306 yards. He played hard and tough right out the gate for the team.
"It's big for us, especially where we were and now winning two straight and trying to kind of get some momentum going," Wentz said. "Doing it against an NFC East opponent is huge and now we are kinda setting ourselves up to make a run, to try and do something special here."
Another Day, Another New Redskins QB
Just about two weeks ago, Redskins quarterback Alex Smith suffered a pretty gruesome leg injury in their game against the Texans. At that point, his season was over and Colt McCoy stepped up.
However, McCoy injured his lower right leg on a sack by Malcolm Jennings in the second quarter. It was revealed when he went to the locker room that he has a fractured right fibula.
That meant backup to the backup quarterback, Mark Sanchez, got to see his first NFL season action for the first time since 2016. Sanchez led the New York Jets to consecutive AFC championship games in 2010 and 2011.
Sanchez said all the guys on the team are really supportive of him in his new role.
"We know you are a vet, but we understand. We will rally for you and you are gonna do great next week," Sanchez said. "For a new guy on a team, that feels good cause it's like the first day of high school, where do I sit at lunch kinda thing."
Up Next
The Redskins will host the New York Giants on Sunday. The Eagles will visit the Dallas Cowboys on Sunday.