Few have done what James Harden has. After scoring 31 points against the Dallas Mavericks on Feb. 11, Harden has scored at least 30 points per game for the past 30 games of the season.
Third Longest Streak in History
30 STRAIGHT FOR @JHarden13! pic.twitter.com/fQLWqYMHdI

— Houston Rockets (@HoustonRockets) February 12, 2019
30 points in one game is a huge accomplishment for any basketball player. Not only did James Harden do that in his last game, he has achieved this in 30 consecutive games.
Harden is now one game away from the second place spot, held by NBA legend Wilt Chamberlain. Wilt also holds the record for longest streak of 30 point games, at 65 consecutive games.
It was not looking like he would be able to do it again. On Feb. 9, during the Rocket's loss against the Thunder (112-117), Harden strained his shoulder, limiting his shooting practice leading up to their last game.
This obviously did not hold him back, as he rallied 11 points within the last two and a half minutes of play to secure a win for his team. Harden said that he was concerned about getting 30 points, but he did say it was a "credit to" Paul that he got the ball back to him.
"I was worried about winning," Harden said. "They were making their shots. They were coming back, cut the lead to I think 10 or nine points … so I just wanted to get the proper shots … I was just trying to make the right play."
https://twitter.com/HoustonRockets/status/1095336725579210752
Up Next For the Rockets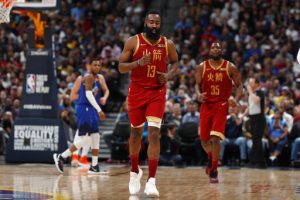 33-23 so far, the Rockets are the top ranked team in the Southwest division and fifth in the Western conference. With their playoff standing in view, every game counts.
They are set to take on the Minnesota Timberwolves on Feb. 13, this should not be a hard game for the Rockets.
However, this game will need to prepare them for their next two games to come against the Lakers and the Warriors, two stacked teams from the West coast.