A football team that doesn't tackle sounds quite unheard of today. But, Dartmouth College is changing the game.
Changing the Football culture one drill at a time with Coach Teevens and the rest of the Dartmouth Coaching Staff https://t.co/4k3hj5IDCG

— Dartmouth Football (@DartFootball) August 14, 2019
How it Began
Following the nationwide concerns about concussions, Dartmouth head coach Buddy Teevens thought, "There has to be another way." He changed how his team practiced.
He said it might have not been the best career move with a new university president, athletic director and coming off an 0-10-2 season.
Teevens went 6-4 the next year with his new tackling philosophy. The team utilizes things like agile bags, pop-up dummies and a robotic tackling device that resembles a 180-pound player running a 40-yard dash in 4.7 seconds.
The robot came about from watching a remote control car. Teevens went to the engineering department at Dartmouth and had a study program created in regard to developing the technology.
Showing Improvement
"You will never be tackled by another Dartmouth football player," he told his recruits. As a former Gator assistant under Steve Spurrier, Teevens credited the Head Ball Coach for developing this new strategy.
These football robots were developed by students at Dartmouth's engineering school pic.twitter.com/ZHhraC0MMH

— Business Insider (@businessinsider) August 21, 2018
Teevens said his players were skeptical at first, but seniors like Isiah Swann and Jack Traynor told their coach they felt fresher than they ever did in high school.
"We're the best-tackling team in the league," Teevens said. "We average five missed tackles a game."
He saw a 50 percent drop in missed tackles the first season after eliminating tackling. It allows the coaching staff to be specific with what kind of tackles to practice.
No Drop-Off on Saturday
Spreading the Word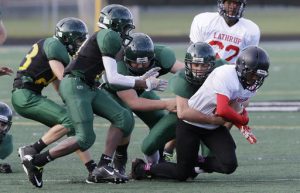 About 100 college programs, 22 pro teams and 100 high school teams use the robotics created by Dartmouth. However, Teevens's movement hasn't gained much traction. He thinks it's because of the potential downside.
"If someone is having success and, all of a sudden, they go 4-8 and they're not tackling," he said. "Well it's because they didn't tackle (in practice)."
Dartmouth's head man went to the NCAA in 2017 about eliminating in-season tackling but that was too aggressive. Two weeks later, he got every Ivy League coach on board at a meeting.
Teevens on Getting People on Board
But, he said more and more coaches are coming up for video tapes on how they conduct practice. The team even has instructional videos on YouTube for interested parties.
Getting Ready for 2019
Don't forget, Dartmouth has a season upcoming too. Teevens said his team was picked to finish second in the Ivy League.  The Big Green finished 9-1 overall and 6-1 against Ivy League schools.
Outlook for the 2019 Team
Start the countdown! Only one week till practice starts in #TheWoods pic.twitter.com/JZ1D8TnXXC

— Dartmouth Football (@DartFootball) August 18, 2019
Teevens on the Ivy League
The Dartmouth Big Green face off with the Jacksonville University Dolphins on Sep. 21 at 1 p.m.