The Florida Gators gymnastics squad finished off the regular season ranked second in the nation. The Gators hold a national qualifying score of 198.050. They fall only behind the Oklahoma Sooners, who have an NQS of 198.080.  The annual gymnastics SEC championship is set to kickoff this Saturday in Birmingham, Alabama, with Session I at 3:30 p.m. and Session II at 8 p.m. Being the top seed in the SEC, the Gators will compete in Session II and following Olympic rotation.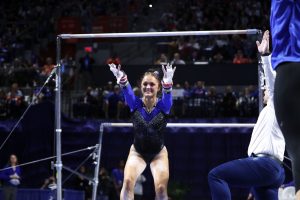 Historic Season
This past season was the Gators seventh undefeated one in their program's history. The Gators have faced some of the best competition in the nation, although they haven't let it phase them one bit. Some of their most notable meet victories include the current No. 1 ranked Oklahoma, No. 5 ranked LSU, No. 6 Alabama and No. 9 Kentucky. The Gators finished off their historic season with the 2022 regular season SEC title. They also look to cap off this season with an SEC Championship and to compete for the national title. The Gators have a roster full of extremely talented gymnasts. Specifically, gators Trinity Thomas and Leanne Wong have had some record-setting performances.
Trinity Thomas
Trinity Thomas became one of 12 gymnasts in NCAA history to have a Gym Slam. A Gym Slam is when one receives a perfect 10.0 on each event they compete in. Thomas also finished off the season as the top all-around performer in the nation, tied with her teammate Leanne Wong. She has earned the honors of being one of six finalists for the American Athletic award. This award is given to one senior student-athlete in NCAA gymnastics.
https://twitter.com/GatorsGym/status/1503518711654715397
Leanne Wong
Freshman Leanne Wong has had an incredible start to her career here at Florida. Wong just won SEC gymnast of the week. She won all four of her events this past week and tied her teammate Thomas for the national AA high of 39.85. For her career, Wong is a world all around silver medalist and has been apart of the US national team four times. With her tenure at Florida just beginning, the limits for what she can accomplish are endless.
https://twitter.com/GatorsGym/status/1503778057663959048
SEC Championship Expectations
With Florida being seeded as the 1 seed in the SEC Championship, there will be a lot of pressure put on the Gators to take home the title. Having defeated all SEC opponents, except for Auburn (tie), the Gators know what it takes to come out on top. In Session II, the Gators will face LSU, Auburn and Alabama. This weekend, they look to bring home their first SEC title since 2016. Jenny Rowland, the Florida Gators Gymnastics Head Coach, discussed how competitive this weekend will be and the talent depth of the SEC.