The Santa Fe Saints settled a quick game earlier today against St. Johns River State College, giving them their third win in the Mid-Florida Conference series.
Slow Start
The Saints started off hot in the bottom of the first inning, with a solo home run from Tyler Shelnut. The score remained 1-0 through the first three innings thanks to pitcher Mitchell Gross, who had already secured five strikeouts under his belt.
Quick and Easy
By the end of the fourth, the Saints drove the score up to 5-0. Bret Madren started the action with a solo home run over left field, followed by a walk from Zeb Marquis. Marquis wasn't in the field for long and ran home after a triple that almost landed over the fence delivered by Jake McKee.
The left-field seemed to be the favorite spot of the day as Jacob Guthrie's single soared through it, bringing McKee all the way home. Guthrie continued the action by stealing second, then moving to third on a missed ball. Jevin Relaford ensured the last run of the inning, hitting an RBI double down the left-field line to bring Guthrie home.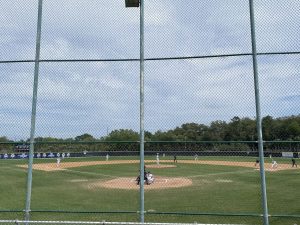 Santa Fe kept their momentum going, and ended the fifth at 7-0. Madren added another solid hit to his record, allowing Shelnut to run home from second. The second run, thanks to Marquis' sacrifice fly, came from Gabriel Esquivel.
The deal was sealed by the bottom of the sixth. With Relaford and Dylan Mock in the field, Shelnut delivered his second run of the day straight down center field, bringing all three home. The final score was 10-0, leaving the Vikings runless.
Up Next
The Saints' next game is home on Monday, March 21 against Daytona State at 3 p.m. Johnny Wiggs, head coach of the Saints, is looking for his 500th win with the Saints.