After 16 seasons in the majors, Gainesville native and former Buchholz pitcher Andrew Miller announces retirement.
Derrick Goold of the St. Louis Post-Dispatch received the following text from Miller:
"The list of people who took me aside, put their arm around me, made me laugh when I needed to, or taught me something is endless… It's safe to say I would have been faced with the next chapter much earlier on if it weren't for them. As someone who thought their career was practically over in 2010, to be able to experience everything I did along the way is incredible. You shouldn't ever hear complaints from me. It was a heck of a run."
Bobcat Pride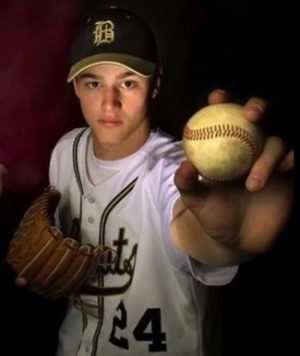 The Gainesville native pitched for the Bobcats and graduated from Buchholz High School.
During Miller's junior year with the Bobcats, he was a candidate for the third-team all-state.
In his following senior season, Miller won the Florida baseball Gatorade Player of the Year.
Also in his senior year, he was a selection for the All-America honors both post and pre-season in 2003. The same year he was chosen as the first-team all-state.
Miller was the third round and 63rd overall draft pick of the Tampa Bay Devil Rays out of high school. 
Congratulations to former Bobcat Andrew Miller on an outstanding Baseball career! https://t.co/3yym67Iwfl

— Buchholz Baseball (@Bobcat_Baseball) March 24, 2022
Miller's Run at UNC
After graduating from Buchholz, Miller continued on to play college ball at the University of North Carolina with the Tar Heels baseball team.
During his time with the Tar Heels, Miller set UNC strikeout records in both single-season with 133 and for a career with 325. He ranked third in Tar Heels' history with 27 wins. Additionally, he ranked fourth in innings pitched with 309. Miller managed to reach double-digit figures in strikeouts in nine appearances at UNC. 
Additionally, Miller received various awards during his college playing career. He was selected as the Baseball America National Player of the Year and Roger Clemens Award winner as the nation's top collegiate pitcher.
Miller was also a Finalist for the Golden Spikes Award and a Semifinalist for the Dick Howser Trophy and Brooks Wallace Award. Lastly, he won first-team All-America by Collegiate Baseball, Baseball America, NCBWA and Rivals.com. 
In 2016, Miller was recognized by Carolina Baseball for his collegiate accomplishments during a basketball game where the university retired his uniform number 33. He was the third-ever Tar Heel baseball player to be recognized with this honor. 
Congrats again to Andrew Miller on having his No. 33 retired this afternoon at the Smith Center! pic.twitter.com/MRqRn5USRs

— Carolina Baseball (@DiamondHeels) January 31, 2016
Miller Moves to the Majors
Miller is the sixth overall pick from the 2006 MLB Draft by the Detroit Tigers. On August 30, 2006, the stage was set for his MLB debut as the Tigers took on the New York Yankees at Yankee stadium. 
The lefty reliever went on to play in 612 games for seven teams. He played for the Tigers, Florida Marlins, Boston Red Sox, Baltimore Orioles, New York Yankees, Cleveland Indians and St. Louis Cardinals.
The 36-year-old is a two-time All-Star and the 2015 AL Reliever of the Year. The Gainesville native retires with a career 4.03 ERA, 979 strikeouts, and 63 saves in 829 innings pitched.
Focusing on his career as a relief pitcher, his stats become much more impressive. With 547 lifetime relief appearances in the regular season, he pitched a 2.95 ERA with 724 strikeouts in 504 innings. During his peak (2014-17), he recorded a 1.72 ERA and 6.28 K/BB ratio throughout 260 appearances. 
Best Bullpen Arm of the Era
Miller began to transition to full-time relief where he became one of the best bullpen arms of this era. Despite being a lefty who relies on a slider, He proved himself a throwback specialist with the ability to work multiple high-leverage innings at a time. 
During his postseason runs with the Orioles, Yankees, Guardians, and Cardinals, Miller became known as one of the game's best postseason performers from the bullpen. He recorded a 0.93 ERA in 29 games during October. Miller began his postseason career pitching a 23 1/3 scoreless inning streak where he struck out 54 batters in 38 2/3 innings.
Andrew MIller's career:
16 seasons
612 games
Two All-Star appearances
Twice named on Cy Young Award ballots
Average 10.6 Ks per 9 IP
MVP of the 2016 ALCS
Struck out 21 of the 41 batters he faced in first 2 rounds of '16 postseason
Carried a reputation for being a great teammate.

— Buster Olney (@Buster_ESPN) March 24, 2022
Success in the Big Leagues
When Cleveland had their 2016 World Series run, Miller pitched a 15-inning scoreless streak which broke records previously set by Mariano Rivera and Goose Gossage for a reliever in a single postseason set.
Miller set a new record for most strikeouts by a reliever in a single postseason by surpassing Francisco Rodriguez with 30 K's. In the same postseason, he gave up only three runs throwing 19 ⅓ innings and won the ALCS MVP. 
Miller had a save in the 2017 All-Star game. He was also part of the USA national team in the 2017 World Baseball Classic. The USA team placed first and won gold that year.
Miller's Impact
Furthermore, Miller will continue to influence the use of late-inning relief pitchers during the playoffs. Miller would play for many innings coming out of the bullpen rather than a traditional one frame.
However, his influence does not stop here and rather extends beyond the field. Miller played a major role in the MLB's recent lockout where he served as an outspoken players' union representative. 
With negotiations up in the air, Miller told ESPN's Rogers why he is so passionate:
"It can get hot because we're passionate about this. I'm passionate about finding a way to address the issues, and I'm passionate about the sport," Miller said.
After announcing his retirement, Miller is being praised in the media for his dedication through the lockout despite knowing he would be walking away. Miller knowingly persisted not for his own benefit but for that of younger generations.
Andrew Miller put himself through the misery of a lockout and CBA negotiations for the Players Associatioin only to walk away from the game. It proves that he really was doing it all for the next generation. https://t.co/DR6heKZThu

— Tim McMaster (@TimMMcMaster) March 24, 2022