The Florida Gator softball team loses a 7-2 decision to the Tennessee Volunteers on Saturday, thus giving the Vols a series victory.  The Gators try to avoid a sweep as they host Tennessee again on Sunday.  The Gators are now 26-5 on the year and 4-4 in SEC play while Tennessee improves to 22-8 and to 5-2 in league play.
Defense
Much like Game 1 Friday night, Florida was unable to stop the Tennessee offense. The Volunteers started off the game with Amanda Ayala pushing Kiki Milloy home to give the Volunteers an early lead in the first. Tennessee followed this up in the third inning, starting off with Lair Beautae knocking back a double to right-center field. This allowed freshman Katie Taylor to make it home  bringing the score to 2-0. Zaida Puni hit a two run homer to left field, making it a 4-0 Tennessee lead.
B5 | Gators pick up back-to-back, two-out singles from Wilkie and Kistler, but Tennessee gets out of the jam.

Gators 0 | Lady Vols 7

— Gators Softball (@GatorsSB) March 26, 2022
The Volunteers continued their scoring spree in the top of the fifth, as Puni doubled down the left-field line, allowing Milloy and Kelcy Leach to score.  Tennessee finished up the scoring in the inning as Rylie West pushed a run home on a sacrifice fly.
Offense
The Gators have been a heavy-hitting team all season, with six games so far over 10 runs. This was not the case this afternoon, however. Florida remained scoreless until the last inning until an Emily Wilkie homer, which pushed both her and Kendra Falby home, avoiding the shutout.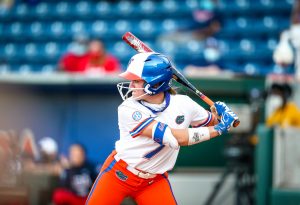 Tennessee has pitched well in the first two games of the series and the Gator bats will need to come alive to help avoid a series sweep.
We'll be back Sunday to close out the series at 2 p.m. on ESPNU #GoGators

Presented by @WellsFargo pic.twitter.com/UN9nW72qe7

— Gators Softball (@GatorsSB) March 26, 2022
Game three will take place on Sunday, March 27 at 2 p.m.