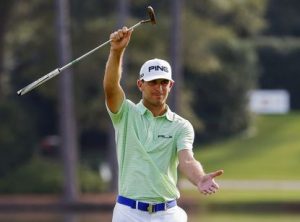 University of Florida graduate Billy Horschel has won seven PGA Tour Titles. His most recent came this past weekend in the Memorial Golf Tournament. The UF Athletic Hall of Fame honoree started off slow, but came back to win with his family looking on.
Horschel Gets Off to a Slow Start
Initially, Horschel did not lead the way. As of Thursday evening, his name was absent from the PGA Tour's first-round leaderboard.
https://twitter.com/PGATOUR/status/1532521019281481728?s=20&t=BaG-vDrWg3FB_hZj8FwJjA
It was not until the second round where Horschel started to pick up the pace. Horschel was tied for fourth place in the second round leaderboard, sitting at -6. Horschel knew he would have to step it up to overtake first place.
Perfect Weekend for Horschel
As the weekend began, Horschel started to get hot. It was evident that Horschel was heating up and was not going to look back.  He quickly took the lead in the tournament and kept his momentum going.
https://twitter.com/PGATOUR/status/1533162618776702976?s=20&t=BaG-vDrWg3FB_hZj8FwJjA
Billy Horschel had a commanding lead heading into the final round with a -13, while second place sat at -8. As the final round started, he continued his hot streak and finished the tournament on top.
Family First
After the victory, Horschel said he was happy to have his family there. He mentioned that through his first six titles, his family was not present. Per Golf Digest, he said, "I've just always wanted that one moment." Now, Horschel has captured the unforgettable moment.
The moment @BillyHo_Golf always wanted. pic.twitter.com/garQCPO5ST

— PGA TOUR (@PGATOUR) June 6, 2022
Hopefully, more moments like these are in the Gator alum's future.