The Santa Fe Raiders earned win number 17 on the season as they defeated the Columbia Tigers 57-49 in front of a packed home crowd. After starting the season at just 2-5, the Raiders have now won 15 straight and have turned heads as Class 4A state championship contenders.
Pre-Game Celebration turns into Quick Start
Dontrell Jenkins, the 5-foot-10-inch guard, was honored before the game with a plaque commemorating his 1,000+ High School points scored. The P.A. announcer declared him "Mr. 1,000" before the tip-off between the rivals. Early on, the celebration seemed to continue with an early 11-4 run, highlighted by a pair of Makhi Lewis 3-pointers. At the half, Santa Fe held a comfortable 31-16 lead. Defense and second-chance points off of offensive rebounds were key in gaining the lead.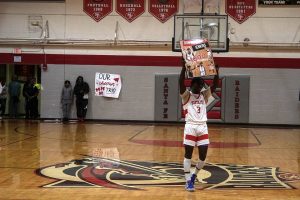 Columbia Fights Back
Halftime adjustments were made, as the Tigers clawed their way back into the game. The defense was particularly effective as heavy ball pressure forced Santa Fe into multiple turnovers leading to layups on the other end. Senior D'Maceo Sheppard anchored the comeback blocking multiple shots and throwing down a pair of thunderous dunks. These plays energized the Columbia fans in attendance. With just over 6 minutes to play in the 4th Quarter, Columbia had the lead down to just 3 at 43-40.
Mr. 1,000 comes up Clutch
With the lead for the Raiders down to just three, Dontrell Jenkins made the play of the game. He drilled a 3-pointer and got fouled in the process to send the Santa Fe crowd into a frenzy. After nailing the free throw to finish off the 4-point play, it was 47-40. Columbia never got that close again. The Raiders will host Senior Night on January 28 against Suwannee. They finish the regular season with a trip to Eastside to take on the Rams on Tuesday, January 31.