The Gainesville High Hurricanes took down the Leon Lions in a 19-point win during their district semifinal matchup on Wednesday. The 61-42 victory will have the Hurricanes feeling good heading into the Friday final, where they will take on a familiar foe, Buchholz, at home in the "Purple Palace".
Not Full Strength
The Hurricanes were without senior guard Theo Stephens in the semifinal blowout. Stephens has been a huge contributor to the Canes' success this season, leading the team in points per game and steals per game. However, the Hurricanes did not waiver without him, controlling the game and never trailing.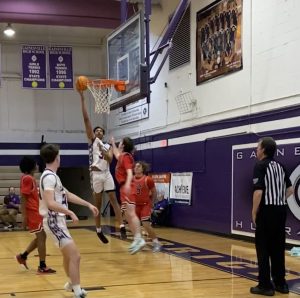 Too Big
Josh Hayes, the 6'9 senior, was the star of the show. He had a team-high 21 points while shooting 7-10 from the line. He dominated the paint, blocking shots and getting easy buckets over the smaller defenders. When asked what went right, he said, "Us facilitating the ball and my teammates believing in me."
Pulling Away
After a close first quarter, Gainesville was able to pull away in the second with an early 8-1 run. Their full-court press was too much for the Lions, resulting in multiple turnovers and Gainesville controlling the ball often. The Canes went into the half with a 30-18 lead.
Cruising
After the half, Gainesville's momentum continued. No longer in their full-court press, the Canes began to cruise. A 13-8 third quarter added to an already substantial lead. Heading into the fourth, the Lions faced a 17-point deficit. The atmosphere in the gym felt like the game was already over.
Too Little Too Late
The Lions came out hungry to start the fourth. With a high-energy full-court press, Leon was able to force multiple turnovers and cut the lead to 12 with five minutes left in the game. However, that was as close as the Tigers would get. Gainesville held strong, led by Hayes's 9-point quarter, and was able to push the lead to double digits with a little over two minutes left. The Hurricanes then pulled their starters and had a little fun.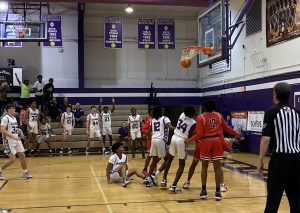 New Faces
In the final two minutes, some of the Canes' younger players got to see the court. The gym erupted when sophomore Brian Smith made a mid-range shot with under a minute left to go. Smith had a huge smile on his face, as the Gainesville crowd cheered and his teammates congratulated him.
What's Next
Gainesville looks to continue its success on Friday with a shot at a district championship. The 20-win season comes down to a rematch vs rival Buchholz at the "Purple Palace". When asked if we could see another performance like tonight, Hayes grinned and responded "Yessir."
Though tonight was an impressive victory, the Canes must quickly change focus to the big matchup in a few days, no doubt the biggest game of their season.