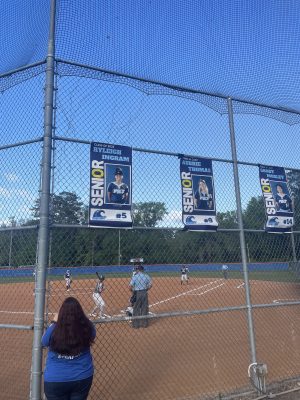 The St. Francis Wolves lost on Friday to the P.K. Yonge Blue Wave. The Wolves had won four straight leading into this game and had a rhythm going. 
P.K. Yonge too much for St. Francis to Handle
The top of the first inning seemed hopeful for the Wolves.
A walk and two hits led to bases loaded, but the Wolves could not convert. They left bases loaded heading into the bottom of the first. 
The Wolves defense took a little to get going. At the bottom of the first, the Blue Wave scored nine runs. Olivia McDaniel started on the mound, but after five runs Mariana Alvarez came in to finish the inning. It was a rough way to start for the Wolves, but they did not dwell on it. 
Wolves Fight Back
They came in bats swinging top of the second.
Mackenzie Moran and Abby Johnson were the first two batters of the inning. They both were thrown out at first leaving the Wolves in a tough two-out position heading into their third batter.
The bottom of the lineup had proven to be a difficult spot for the team to get hits, but Ava Brunetti stepped up to the plate. Brunetti hit the single that started the Wolves' rally. At the end of the top of the second inning, the score was 9-7 Blue Wave. 
St. Francis Wolves can not get Enough Going
From there, things fell a bit stagnant for St. Francis. They went three and out in the third with the score being 15-7 after three. In the fourth inning, the Wolves had some success scoring three runs, but they could not stop the Blue Wave bats. At the end of the fourth, the score was 19-10 Blue Wave. 
Pitching Struggles
St. Francis could not find a fit on the mound Friday night as they switched between three different pitchers throughout the night.
P.K. Yonge gave them all they could handle as the final score was 21-15.
The Blue Wave snaps the Wolves 4 -game win streak

FINAL: 21-15, Blue Wave

— Jennifer Blardonis (@jenblardonis) March 25, 2023
St. Francis looks to move above .500 in their next game on Tuesday at Crescent City at 6 p.m.