The Newberry Panthers traveled to the home field of the Buchholz Bobcats in their 17th game of the season. Newberry currently sits at 10-6 and hopes to bounce back after just recently breaking a five-game win streak versus Chiefland. Buchholz sits at 3-12 and hopes to bolster their win rate after a close loss last week versus West Port.
Opening Showdown
Starting on the mound, Buchholz senior pitcher Lindsey Orton pitched back-to-back strikeouts. Newberry was unable to move the two runners on base as Orton closed out the top of the first with a perfect strike. Orton threw 10 strikeouts by the end of the game, including six in the first two innings that held Buchholz up 1-0.
After three back-and-forth innings, the Newberry Panthers took the lead in the fourth inning. Starting right off the bat with two on-base bunts, the Buchholz defense could not make the play at first. Runners tagged up to steal home. This brought the score to a 6-3 lead.
In the bottom of the fourth, the Panthers made continuous plays defensively to hold their lead. Buchholz struggled to adjust to the pitcher Madison Krecker, as she threw outside pitches. Unable to make line drive hits, the popups in the outfield became routine plays for the Panthers who caught all three outs. 
Newberry's Junior Hollie Pabst hit a deep drive out in center field. She brought 2 runners home. With one out they hold the lead at 2-1.

— Hailey Hurst (@Haileyjhurst) April 11, 2023
Explosive Fifth Inning for Newberry
At the top of the fifth, Newberry dominated in the batter's box. With two runners on base, junior Natreana Akanni came out hot hitting a triple down the right-field line.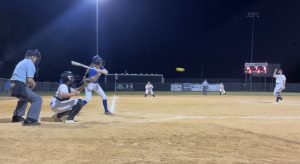 This brought high energy to the Newberry stands and dugout as the scoreboard stood 8-3.  
Newberry's batters continued to show confidence with on-base hits.  The baserunners played smart taking advantage of any defensive mistakes made by Buchholz. Junior Hollie Pabst had a drive to centerfield dropped, giving her a triple. This brought home another two runs for Newberry. By the end of the inning, Buchholz trailed by eight as the score stood 11-3.
Looking forward
Newberry finished the game with 14 runs and 14 hits. With just five regular season games left, Newberry hopes to bring their offensive power into the district tournament. On the other hand, Buchholz has eight regular season games remaining as they hope to add more wins to their season.