The Oak Hall Eagles (11-4) girls lacrosse team flew past the Menendez Falcons (9-7) in a 19-6 blowout on Thursday to win the district champion title for the 2023 FHSAA Girls Lacrosse District Tournament. After beating the Falcons previously this season 16-4, the Eagles showed up ready to dominate the home field.
An Advanced Team
Oak Hall has shown consistent ball control, aggression, and team chemistry throughout the season. Compared to recent competition, the Eagles have advanced passing and catching skills, rarely letting the ball hit the ground during possessions. Additionally, they bring their all to the field. Giving 100% effort in defense and speed gave the Eagles the upper hand on their opponents all spring. The girls are constantly communicating on the field, yelling terms such as "crash" and "I got ball" to keep teammates aware of what is happening around them.
The Falcons appeared lethargic and unpracticed compared to their competition. They struggled to catch the ball, letting the Eagles maintain constant possession. Many Eagles attackers were left wide open during clears and cuts, creating a 13-3 advantage by the end of the first half.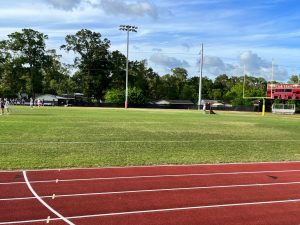 Players to Look For
Sophomore midfielder Sarah Miller leads her team in goals per game. She averages 4.0 gpg in her 2022-23 season after putting up 6 goals against the Gainesville Hurricanes on Tuesday.
Sophomore midfielder Leila Sims averages 3.4 goals per game and leads the Eagles in ground balls with 65 over 15 games.
What is Next for the Eagles?
Details on the regional tournament for Class 1A are yet to be officially announced by FHSAA, but it's expected that the Eagles will start their pursuit for a Regionals title next week. According to MaxPreps, the girls first game is April 21st at 7pm, however, it is unknown who and where they will play. After falling to the Episcopal School of Jacksonville in the 2022 Regional Semifinals, Oak Hall Eagles Girls' Lacrosse hope to advance to the State Tournament in May.