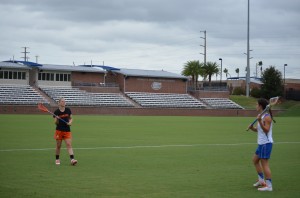 After a strong 2013 campaign, the UF lacrosse team will look to go far in the 2014 season.
The Gators finished last season with an 18-3 record, while going 9-0 at home and extending their home-game winning streak to 19. Florida also captured their third consecutive American Lacrosse Conference regular-season championship and made it to the quarterfinals of the NCAA tournament where they lost to Syracuse 13-9.
"We're extremely happy of what we accomplished last season," said junior defender Mikki Offit. "I think this season we're really looking forward to what we ended on and what we can improve on going into the 2014 season."
The Gators will appear a little different on the sidelines in 2014. The new season will be the first without the majority of the founding class that started as freshmen when the program began in 2010.
"We had a great group of seniors last year that led the way for the underclassmen," said sophomore attacker Darcy Messina. "This year we have two leaders in Krista Grabher and Cara Canington that are also leading the way. We're going to pick up where we left off last season and see where it takes us."
With a huge freshmen class, 12 out of the team's 28 players are new, many freshmen could contribute this season as 2014 marks the beginning of a new era for Gator Lacrosse.
"The freshmen this year all have something to bring," Offit said. "Each year we grow on the little things. We just need to keep building and I know we'll make it."
The strategy on offense for the Gators will be teamwork.
"At attack, we're working as a unit," Messina said. "Both (Assistant coaches) Erica LaGrow and Michelle (Tumolo) give us great ideas. Our midfielders will be working hard on both sides of the ball."
The Gator defense has a similar strategy.
"As a defensive unit, we want to think of ourselves as one team instead of one defender," said Offit. "Our goal is just to focus on defending a player as a team. If one person makes a move, we all slide to back up our defender."
Leading the Gators this year for her fifth season will be head coach Amanda O'Leary. Along with three straight ALC regular season titles, O'Leary has coached the Gators to top-5 final rankings the past three seasons.
"She's an incredible person both on and off the field. She cares about both our well being and the team more than anything," said Messina. "We're like a bunch of daughters to her. She just wants to take care of us and she knows what we're capable of. You just want to win for her and the whole coaching staff."
The Gators open their season in Chapel Hill against the University of North Carolina on February 8th. After last season's  success, and the hard work of  the offseason, the Gators will look to go far in 2014 and bring their first national championship to Gainesville.