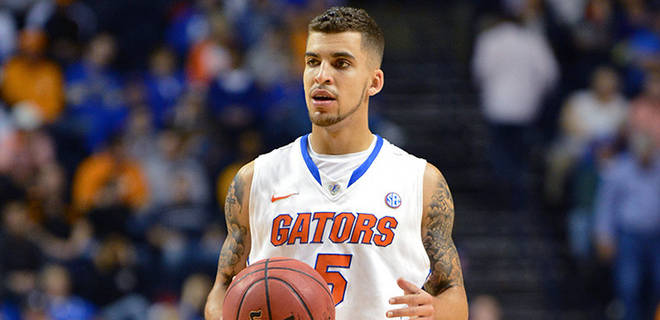 Despite being questionable entering the game, Florida guard Scottie Wilbekin hit the game-tying shot to force overtime which resulted in a Gator win against Arkansas.
The Florida Gator men's basketball team went into Fayetteville, Arkansas on Saturday with a lot of uncertainty; its starting point guard and center were coming off the bench and hadn't practiced the day before. But despite not knowing who would play (or even how much), the Gators were able to pick up a traditionally difficult road win in overtime 84-82 and remain undefeated in SEC play.
This was Florida's only overtime game so far this season, and its first overtime game since December 29th, 2011 where the Gators fell on the road at Rutgers 85-83.
This afternoon turned out to be more than just another game to win for Florida as the Gators had all six of their losses last season by single digits (0-6). But now, the result of today's match continues to solidify their upward trend for close-score games, making them 6-2 in single-digit games this season.
Dorian Finney-Smith was the stat-stuffer of the day for Florida recording his second double-double of the season with 22 points and 15 rebounds. Scottie Wilbekin came off the bench and recorded 18 points with eight of those 18 coming off free throws — six of them in the overtime period.
Patric Young and Michael Frazier II were also limited coming into the game but combined for 25 of Florida's 84 points with Michael Frazier II shooting 4 for 8 from beyond the arc.
Arkansas lead by seven, 64-57 with 4:43 left to play in the game thanks to freshman Bobby Portis and junior Rashad Madden who ended the game with five 3-point field goals; Madden also had a game-high 23 points. However, the two would not be able to save their team after building that lead, combining for only seven points from that moment on.
The Razorbacks took an astounding 72 shots on Saturday but made more three point shots this game than they did last year when they took down the (then) second ranked Gators in Fayetteville. Following today's game, Florida head coach Billy Donovan said his team was "just okay" at defending the three ball; he went on to explain the difference between this year and last year wasn't so much how many shots his team allowed, but more the discrepancy of three pointers between UF and UA — Florida shot 27 three pointers.
With the win over Arkansas in Fayetteville, the Gators end the Razorbacks home winning streak at 23; UF has the nation's third longest active home win streak at 24 games (Duke is next with 25, and Stephen F. Austin has 26). Florida can set the new school record at 25 consecutive home wins with a win in its next match up at home versus Georgia on Tuesday.
Tip off for that game is set for 7:00 p.m.