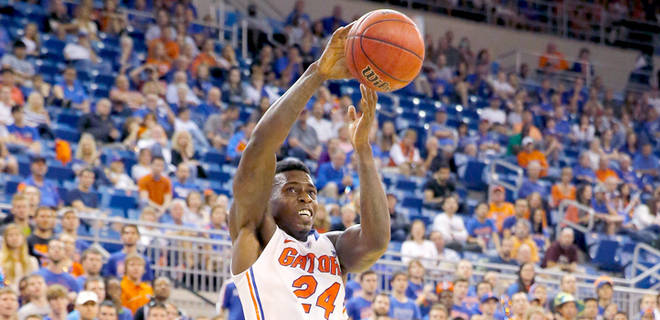 The Gators will be without leading scorer Casey Prather for their Saturday matchup in Arkansas
The last time the Arkansas men's basketball team hosted the Florida Gators, Arkansas took down No. 2 Florida in emphatic fashion 80-69. That was 11 months ago, but the series of this matchup may be closer than the casual fan would expect. Florida, a new-millennium powerhouse basketball program, and Arkansas, a program that hasn't seen a 20-win season since 2008 have made quite the rivalry in recent history.
The series is currently at 16-11 favoring Florida, but winning in Fayetteville has proven to be a challenge for the Gators; 4-8 all-time. The last five games between these two teams in Fayetteville read as follows: 80-69 ARK, 98-68 FL, 71-66 FL, 80-61 ARK, and 85-81 ARK in overtime.
In last year's matchup, Scottie Wilbekin was the Gators' top performer with 14 points, four assists and seven rebounds. However, this year, the veteran guard may not get a chance to take the floor. After rolling his ankle in the Florida's previous game versus South Carolina, UF head coach Billy Donovan said the starting guard hasn't practiced the last two days, but will try and suit up Saturday.
"He (Wilbekin) could do some stuff today(Friday), kind of the trainer's decision to hold him out. I would say that right now he's questionable," Donovan said. "I would say that he'll probably give it some kind of try, but what we can get out of him, I really don't know at this point in time."
One Gators player that WILL NOT be taking the floor is starting forward Casey Prather. Prather leads the team at 17 points per game, but will be held out because of swelling in his knee. The senior had an MRI Thursday night to check for further damage, but no ligament damage was found. Right now Donovan is calling Prather's injury a bone bruise, and after Saturday's game, he'll be considered day-to-day.
"Prather is out for the game. He's got a bruised bone on his knee," Donovan said. "We actually thought it could be some cartilage tear with the way his knee was swelling. We actually got an MRI last night; the cartilage is fine."
Injuries are never good, but the timing of Florida's injuries could be amplified because of Arkansas' play style this season — the Razorbacks are playing 11 players in double-figure minutes. Donovan says the additions to their roster force his limited roster to execute almost perfectly.
"You know right now they're playing 11 guys in double-figure minutes. They have a lot of depth. They've added some new pieces from a year ago; a few new freshmen and a transfer. Very quick and athletic, shoot the ball well at home. Same style of play," Donovan said.
The next match in this SEC rivalry can be heard on Country 103-7 the Gator starting at 12:25pm.
For audio on the quotes above, click here:
Billy Donovan on Scottie Wilbekin's injury
Billy Donovan announcing Casey Prather is out