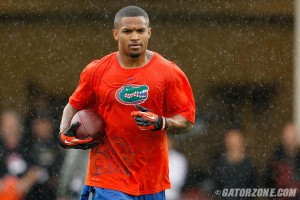 ?Courtesy of GatorZone
Florida football's annual Pro Day was held Monday and at least one scout from all 32 NFL teams and one CFL team took a look at potential draft picks in not so ideal weather conditions. Due to the inclement weather, Florida's draft-eligible players were forced to run the 40 yard dash in the Stephen C. O' Connell Center, but some drills were still performed outside.
In all, seven former Gators ran the 40;?wide receiver Solomon Patton, linebacker Darrien Kitchens, defensive tackle Damien Jacobs, offensive lineman Kyle Koehne and cornerbacks Loucheiz Purifoy, Marcus Roberson and Jaylen Watkins.
The weather was less than ideal, but the players knew this was the last chance for them to improve their draft stock and really show NFL coaches, general managers and scouts how talented they are, and they weren?t going to allow anything to prevent them from showcasing their athletic ability. Former Florida wide receiver Solomon Patton spoke about going through drills in the rain.
?It was obviously a little tough with the rain, but it also makes you look good especially when you?re catching the ball,? Patton said. ?I think it made me look pretty good.?
In fact, the Alabama native may have had the most impressive day of any Gator, running an unofficial best of 4.31 seconds in the 40 and performing well in drills, catching most passes in the rain. Patton said that not being invited to the NFL Combine motivated him to perform exceptionally well at Pro Day.
?I definitely had a chip on my shoulder ever since I found out that I didn?t get invited to the Combine,? Patton said. ?But, it gave me time to get better and work on a lot of stuff so I could come out and give it my all today.?
Meanwhile, Roberson ran an unofficial 4.59 and Purifoy finished with a 4.53 in the 40 yard dash and defensive end Ronald Powell elected to stick with his 40-yard dash time from the NFL Combine, but did work out on the field. ?Powell spoke about how special the day and experience was for him.
?I never thought it was destined for me, even coming out of high school and being the No. 1 player in the country. I never asked for that,? Powell said. ?I just listened to the good people around me, kept my work ethic and kept God on my side and I just took it step-by-step and I ended up in that place. I always attack myself every day, whatever the case is, I attack myself every day, I want to be better than myself every day.?
Other former Gator players that participated in the workouts for NFL personnel were wide receiver Trey Burton, and offensive linemen Jonatthan Harrison and Jon Halapio. Halapio spoke about his teammates being there and encouraging him every step of the way.
?It?s just like another practice, it feels good,? Halapio said. ?I haven?t seen everyone in a while, even at the Combine I only saw Harrison and Burton so it was nice seeing the other defensive players as well.?
Watkins, who is still recovering from a sprained Achilles tendon, did not run the 40- yard dash but did participate in drills. Meanwhile, defensive tackle Dominique Easley attended Pro Day, but did not participate as he continues to rehab a torn ACL he suffered last fall. Florida head football coach Will Muschamp said Easley will likely work out for the coaches and scouts in April, tentatively set for the 18th.
The former Gator football players may be on to the next chapter of their lives and off?to pursue their dreams, but one thing is certain;?Gator nation will always have a special place in their hearts. ?
?To tell you the truth, I miss everything about this place right now,? Powell said. ?It?s not an easy place to leave and it?s definitely some place that?s in my heart. I can?t tell you what I won?t miss about this place because right now I?m missing a whole lot of things.?
Draft day will be May 8th at Radio Music Hall in New York.
To hear audio from the above quotes, click below:
Patton on going through drills in the rain
Halapio on teamates being there to encourage him
Powell on what he'll miss about Gainesville