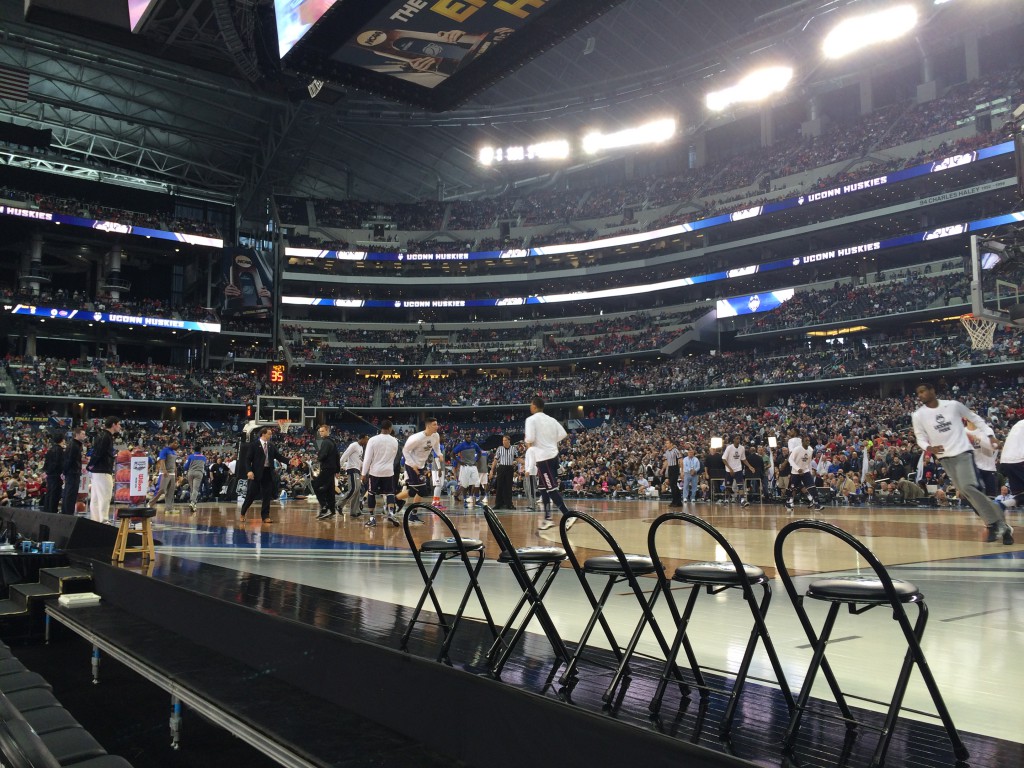 The NCAA basketball tournament is often one of battles and roads of those less traveled. Kentucky and Connecticut sit alone at the top with some of the more difficult paths behind them.
For Kentucky, the Wildcats emerge from the thought-to-be toughest region of the NCAA field having beaten Wichita State, Louisville and Michigan to find themselves here.  In their wins, freshman Andrew Harrison hit go-ahead 3-pointers with little time remaining. UK head coach John Calipari talked about why Harrison always has the green light to shoot big shots.
"The biggest thing is he's not afraid to miss, Calipari said. "He's okay with it. he's comfortable in his own skin. He knows how hard he works."
For UConn, the Huskies have traveled what is thought to be the now-toughest road to the Final Four by defeating the No. 2, 3, and 4 seeds in their division with Villanova, Iowa State and Michigan State all falling. During the streak, UConn's guards are averaging 63 percent of their total points.
This championship game will be a battle of two very talented teams — it's no fluke either are here, despite their 7 and 8 seeding.
Kentucky will look to do what it has done all tournament: surprise teams on defense with their length and quickness, and also be able to drive to the lane with good touch around the rim as well as adding a few timely outside shots on offense. For the Wildcats, Julius Randle and Marcus Lee will look to provide an inside game for the team.
UConn head coach Kevin Ollie's team is known for keeping up in shootouts but talked about what they're focusing on on defense.
"First of all we want to get back in transition; that's our number one key every game. Especially them (kentucky), they've got a lot of great athletes," Ollie said. "They use their quickness, they use their speed, they use their jumping ability to get inside the paint… we want to keep them in front of us."
UConn's strategy is no surprise; their going to try and beat you with their speed and ability to shoot and connect on difficult shots from the outside. Shabazz Napier and Ryan Boatright are two guards who can create their own shot and play great defense.
It's a clash of two different styles of play, but there's no doubt these two team are playing their best basketball now.
Tip off for the National Championship is set for 9:10 eastern time.
For audio on the quotes above, click here:
Kentucky head coach John Calipari on Harrison's big shots
Uconn head coach Kevin Ollie on what his team need to do defensively