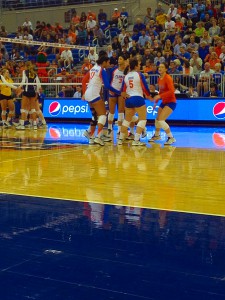 Despite double-doubles from freshman middle blocker Rhamat Alhassan and junior setter Mackenzie Dagostino, the Marquette Golden Eagles edged the seventh ranked  Florida volleyball team in a five-set affair Friday evening (24-26, 25-20, 25-21, 25-20, 13-15).
Gators head coach Mary Wise credited Marquette for coming out on top, despite trailing in most offensive categories.
"On a night when we played against a very well-coached team that played very well," Wise said."Our less-than-best wasn't good enough. Give the credit to the team that made the plays and deserved to win."
Alhassan had her third straight double-digit kill output (11) of the season for the Orange and Blue (5-3) and added a career-best 10 blocks against the Golden Eagles (7-3), while Dagostino scooped up a career-tying 17 digs and dished out 43 assists as the duo picked up the first double-double performances of their respective careers. Dagostino additionally served up a career-best six service aces, had five blocks and dumped over five kills (.833) for a career-best 13.5 points towards the Gators' offensive efforts.
Florida incorporated some new faces in the lineup Friday to aid its efforts, as sophomore Shaïnah Joseph started at middle blocker and had a career-best match with eight kills and five blocks for 10.5 points, while sophomore outside hitter Denise Belcher had career-tying two blocks through two sets, along with two kills.
The Gators now turn their attention to in-state foe UCF (7-3). The Orange and Blue and the Golden Knights meet for the first time since 2006, when UCF visited Gainesville for the same Florida tournament. The Florida leads that all-time series 17-0.
Sunday's matinee is set for 3 p.m. You can catch that match on ESPN 850 WRUF.
For post-match comments from coach Wise and Mackenzie Dagostino, click below:
Wise credits Marquette on outperforming her squad
Wise talks about the play of Joseph off the bench
Dagostino talks about Marquette's performance
Dagostino talks about what the team must do heading into Sunday