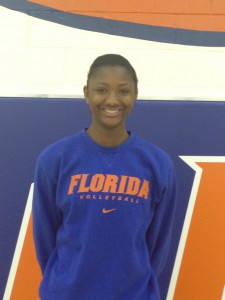 All Gator athletes bleed Orange and Blue, but sometimes they also bleed Red, White, and Blue.
That's the case for freshman middle blocker Rhamat Alhassan. Before Alhassan took the court for the Florida volleyball team this fall, she spent her summer helping the U20 Women's Junior National Team win Gold at the North, Central America, and Caribbean (NORCECA) Volleyball Confederation Championships. Alhassan went into the tryouts without expectations, but worked her hardest.
"I just went in there optimistic, just going to play and work hard and then at the end I found out that I was selected for the team," Alhassan said.
She didn't have much time to be excited about her selection though.  The team had a fast paced training schedule and not much time to get ready for the tournament in Guatemala.
"With USV (United States Volleyball) we only had two weeks to train," Alhassan said, "so it was rapid fire, trying to get through everything."
Though the training was intense, Alhassan says it helped her become a better all around player.
"I definitely took away some blocking habits, and serving, which I don't really do much but it did help," Alhassan said, "Just playing at that level, it's a much faster pace than high school and club were."
Alhassan posted 15 kills, four blocks, and two aces in the United States' 3-0 win over Cuba in the finals.   She said winning Gold with her team is something she won't forget.
"It was great playing with them.  It was a great experience," Alhassan said. "And it definitely helps broaden your horizons."
Alhassan has also won quite a few individual awards.  She was named Most Valuable Player, Best Blocker, and an All-Star Team member at the NORCECA Continental Championship.
At Florida, she's been selected as both SEC Freshman of the Week and SEC Offensive Player of the Week.
"It all goes back to having great teammates and having them support me," Alhassan said.  "It makes me excited and makes me want to keep working hard, but working hard for them, not for those awards."
With a gold medal already under her belt in her young career, you may think what more could she want?
Well, that answer is simple: an SEC and national championship as a Gator.