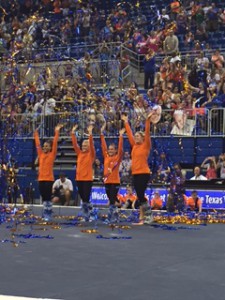 UF's Seniors Kytra Hunter, Rachel Spicer, Kiersten Wang, and Jamie Shisler
Florida gymnastics finished the regular season strong at 7-3 after their win over Texas Woman's University on Friday night. But the greatest milestone of the meet came when junior Bridget Sloan scored a perfect 10.0 on the uneven bars. This made her the only Gator in the history of the program to score a 10.0 on every event. She said she has been very focused on getting the perfect mark on this fourth event.
"Bars is one of those events for me that feels very natural. You know, it's always come easy to me, so when I'm up there, it's just me and the bar. There's nothing else going on."
Being the last home meet of the season, it was Senior Night for Kytra Hunter, Rachel Spicer, Kiersten Wang, and Jamie Shisler. Each of the seniors from both teams were honored with flowers from Florida's head coach Rhonda Faehn.
Hunter wrapped up her senior home performances with a near perfect 9.975 on floor, which earned her the floor title and her 20th all around title. Kierstan Wang scored a 9.90 or above on both vault and floor. Rachel Spicer's meet high came on beam with a 9.90, and Jamie Shisler was able to showcase the start to her floor routine, as she is still suffering a tear to her Achilles.
Other meet highlights came when four out of the six Gators on vault scored a 9.90 or better, including Sloan's vault title win at 9.95. Both Bianca Dancose-Giambattisto and Kytra Hunter scored a 9.90 on bars. Rachel Spicer, Claire Boyce, and Hunter all scored a 9.90 or better on beam, with Boyce taking the beam title at 9.925. Both Hunter and Wang had the top routines on floor. Hunter says she's proud of the accomplishments she's had her senior year and throughout her career.
"That's life of gymnastics, being able to improve. And so I think this year, physically and mentally, I've been my best. And I've been the most consistent this year too."
TWU put up a team total of 193.40, but it was no match for the Gators' 197.90. The Pioneers registered a fall on every event, with their top performance coming from senior Spencer Jones on floor at 9.875. They will head to the Midwest Independent Conference Championships on March 21st.
Florida is now preparing for the SEC Championships, which take place next Saturday in Duluth, Georgia.  This will be Florida's chance to redeem themselves against both Alabama and LSU, teams they lost to earlier this year.  Even though UF is the two-time defending national champions, Florida coach Rhonda Faehn says that does not change their mentality heading into the SEC's.
"I've constantly stressed that the past is the past. And every day and every competition is a new competition and that you have to earn everything you do. And this team, they understand that."
After SEC Championships, Florida will be focusing on NCAA Championships, coming April 17-19th.
To listen to the audio clips from Bridget Sloan, Kytra Hunter, and Rhonda Faehn, click below.
Bridget Sloan talking about her perfect bars score.
Kytra Hunter talking about her career improvements and accomplishments.
Rhonda Faehn talking about their mentality heading into SEC Championships.