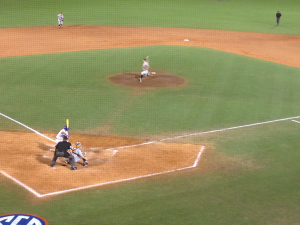 Volunteer pitcher Bret Marks throws eight no-hit innings before giving up first hit in the ninth inning Friday night in Gainesville.
The Florida baseball team opened up SEC play with a 6-3 loss Friday night to the Tennessee Volunteers at home.   Florida falls to 16-3 (0-1) on the season, while the Volunteers are 8-6 (1-0).
This game was all Tennessee right from the start; the Volunteers jumped out to an early 4-0 lead in the first inning on three home runs. Florida pitcher Logan Shore struck out the first batter of the game but then lost command giving up a solo shot to AJ Simcox. Two batters later Shore gave up back-to-back home-runs to Nathaniel Maggio and Andrew Lee.
Shore would settle down after the first inning giving up just one run on a solo shot in the fifth inning, making it four home runs in the game; Shore gave up only one home run all of last year.
Shore says he takes responsibility for this loss.
"I felt like I bounced back a little bit [from the first inning], but I didn't quite make the adjustments I should have. I gave up a home run again in the third. It's just unacceptable, and I take full responsibility. This next week will be a good week for me to bounce back and make sure my stuff is on point for Ole Miss."
Offensively the Gators stalled for the first eight innings before getting on the board in the ninth. Tennessee pitcher Bret Marks had a no-hitter broken up in the ninth inning by a Dalton Guthrie lead off single. Florida would load the bases and score their first two runs on a fielder's choice by JoshTobias and a throwing error.   JJ Schwarz singled home another run to make it 6-3 but with the tying run at the plate Florida hit into a double play to end the game.
Senior Josh Tobias says the Gators will take that ninth inning momentum into Saturday's game.  
"It's good mentally for tomorrow. We came back and fought in the ninth and didn't lie down. We'll take that positive from the game [tonight] and bring it in tomorrow."
Florida and Tennessee face off again Saturday with lefty AJ Puk getting the start on the mound for the Orange and Blue; tune into ESPN 850 WRUF at 6:55 for coverage with first pitch set for 7.
Sound from the story, click below