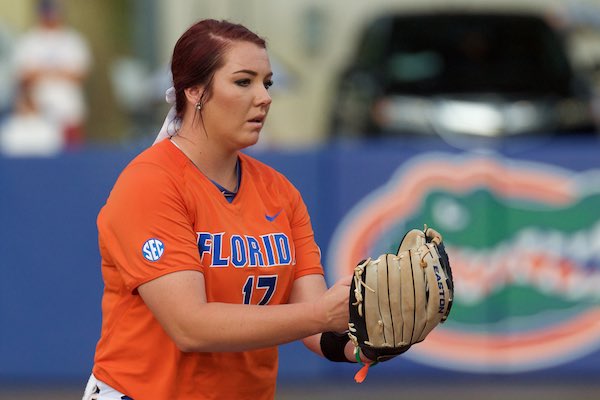 The #3 Florida Gator Softball team defeated #13 Kentucky 2-0 Monday night at Katie Seashole Pressley Stadium. The Gators sweep the series and improve to 40-4 on the season.
It was a low scoring game and both runs were scored by junior second baseman Kelsey Stewart and she is proud of her team's effort.
"Its so nice, especially because that's a great Kentucky team and you know they're going to go far in the postseason. Just knowing that we con come out and win three games against one of the best teams in the SEC is really refreshing."
Florida takes a series from Kentucky for the first time since 2010. Senior righty Lauren Haeger secured her 19th win of the season. According to Haeger her hard work is paying off.
"If you would have asked me four years ago, or three years ago, or two years ago probably not. But again I've just been working relay hard this year in the bullpen. Taking away playing first base has really, really helped me focus a lot."
This is the 13th straight year Florida has won at least 40 games.  According to Gator coach Tim Walton, getting ahead was key in winning this game.
"In the game of momentum and motion it's real important to get that lead. Today being down Ii think it changes the swing; I mean you can see that the swings aren't as free and easy."
This win puts Florida at 40-4 for the season and 11-4 in the SEC. Up next for the Gators is a midweek game on Wednesday against in state rival USF.
For full audio on the above quotes please see below:

Kelsey Stewart on sweeping Kentucky
Lauren Haeger reaction to her 19th win
Walton's thoughts on the offense