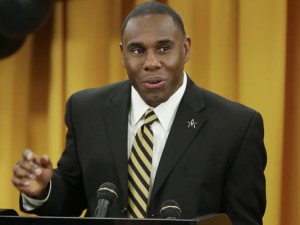 Vanderbilt head coach Derek Mason walked into a lose-lose situation last season.
Mason was replacing James Franklin, who turned around a football program that was once considered the laughing stock of the Southeastern Conference. In his final year as coach of the Commodores in 2013, Franklin led Vanderbilt to a 9-4 (4-4 SEC) record and won the final five games of the season.
Franklin took the job at Penn State and Mason was hired at Vandy, but the Commodores struggled in his first season. Vanderbilt went 3-9 (0-8 SEC) and were at the bottom of the SEC East once again.
There was no way Mason could duplicate that same success in his first season that Franklin had. But with a new season comes a new mentality.
"Our culture has changed. We're a much different football team than we were a year ago," Mason said.
One of the new changes that Mason made was hiring Wisconsin offensive coordinator Andy Ludwig. Ludwig was the offensive coordinator and quarterbacks coach at Wisconsin for two years. He ran an offense that averaged 480.8 yards per game — a school record — while averaging 34.8 points per game in 2013.
In 2014, the Badgers offense averaged 34.6 points per game and 468.9 total yards. Vanderbilt struggled mightily on offense as they ranked 13th in total yards with 2149. Only LSU had a worse offense statistically (2118 total yards).
"Andy is one of the brightest and really one of the most unique offensive coordinators in the country," Mason said. "If you look at his track record and where's he's been, he's been successful wherever he's been and he's been able to put his teams and his players in positions to be successful."
A struggling offense was one of the reasons the Commodores couldn't hang around the better teams in the SEC. Mason places the blame on himself.
"The biggest component that I felt we fell short in watching our games was being competitive and what that looked like," Mason said. "We weren't a very competitive football team in 2014 and that's on me. I take full responsibility for that."
Redshirt sophomore quarterback Johnny McCrary returns after leading the team in passing last season. McCrary threw for 985 yards with nine touchdowns and eight interceptions. Running back Ralph Webb, who ran for 907 yards and four touchdowns, returns as well.
Vanderbilt will also have to find consistency on the defensive side of the ball. The Commodores finished 12th last year with 20 sacks with and 13th in interceptions with only six. Mason will handle the defensive play calling this year after last season's struggles.
Vanderbilt will open up its season on Sept. 3 against Western Kentucky before  its first SEC matchup of the season against Georgia on Sept. 12. Vanderbilt was picked by the media to finish last in the SEC East and they have a daunting conference schedule ahead of them.
They'll have to go against Ole Miss, South Carolina, Missouri, Florida, Kentucky, Texas A&M and Tennessee to go along with the Bulldogs.
As the Commodores get ready for the season, one thing Mason sees differently with this year's team is its confidence level.
"When you're a football team that lacked confidence and couldn't find itself getting out of its own way, the confidence factor was few and far between and I think what we've been able to is bridge that gap," Mason said.
You can listen to more of Derek Mason below: