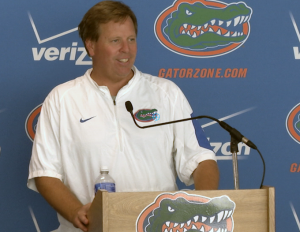 Rumors floated around leading up to Jim McElwain's Wednesday press conference that multiple Gators players would be suspended against Tennessee this Saturday. McElwain started the press conference by stating how happy he has been with the team's preparation this week. After sounding off about the lackadaisical effort at practice leading up to the East Carolina game, McElwain seems pleased with the team's effort the past two weeks.
After that statement, McElwain confirmed all of the rumors that had been floating around.
"Based on some choices of a couple of guys, they chose not to play in this ball game," McElwain said. "Jalen Tabor and Treon Harris won't be with us this week which simply means we need some guys to step up. They'll be back."
With Jalen Tabor out, Quincy Wilson who secured the victory over Kentucky with his interception of Patrick Towles, will start at corner. As for Harris, Will Grier will once again start at quarterback for the third straight game. McElwain described Grier's performance against Kentucky as "just okay" and thought he left the pocket a little early on some occasions, but also making a few good decisions in taking off to gain yards.
"Sometimes the rush gets back in to you," McElwain stated. "I think we've got to get a little more firm in the middle of the pocket, which helps from that separation standpoint."
Offensive line coach Mike Summers is being tasked with trying to coach up a unit that had three true freshman offensive linemen on the field at the same time last week. Summers knows this young group will have to grow up fast in the SEC.
"The number of reps that you get of understanding this is how fast the game is, this alignment means we're going to get this slant, it means we're going to get this type of blitz, all of that preparation and stuff is slow to come if you haven't had experience at it," Summers explained.
The Gators and Volunteers will kick off on Saturday at 3:30 in the Swamp.