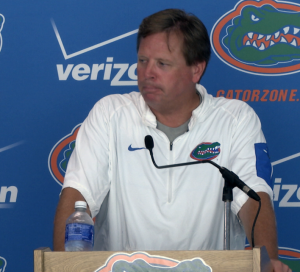 The 25th-ranked Florida Gators and third-ranked Ole Miss Rebels will meet this Saturday night. The last time two top-25 teams met in the Swamp was in 2012 when Florida dominated the South Carolina Gamecocks 44-11 on their way to an 11-1 regular season record and a Sugar Bowl berth. The Gators were favored in that match up with South Carolina, but come in to this game against Ole Miss as the underdogs at home.
The Gators will have quarterback Treon Harris and defensive back Jalen Tabor back this week after both served their one game suspensions last week. While Harris is eligible to play this Saturday, Jim McElwain and staff decided to allow Will Grier to start his fourth consecutive game. McElwain, however, did say that he expects both guys to be prepared for this one.
"He (Grier) had a pretty good week, Treon had a really good week as well," McElwain noted. "Both guys are ready to go."
The flu bug is still continuing to affect a number of Gators players. On Monday, McElwain stated that nine players were dealing with flu-like symptoms. While McElwain believes the bug has run its course he won't make any excuses for someone not being able to play.
"This stuff has been hitting us pretty quick and who knows come game time where we're going to be," McElwain said. "At the same time, if somebody can't be there, somebody else will."
Last week against Tennessee, the Gators pulled off a comeback for the ages, scoring two touchdowns in a little over four minutes of play to win 28-27. The wide receivers played a big role in the victory combining on 16 receptions for 224 yards and two touchdowns, highlighted by the 63-yard touchdown by freshman Antonio Callaway. The wide receiver coaching position has been a revolving door at Florida with seven coaches in seven years. Kerry Dixon II was brought in to provide some stability to that position and according to Dixon, the most important aspect of his job comes off the field.
"That inconsistency sometimes hurts you," Dixon said. "I think the consistency with me in the room this year has been preaching the message that you do care about the players, because in this game now-a-days, it's more they want to know that you care."
The receivers will have their work cut out for them trying to get open against an Ole Miss secondary who leads the SEC in interceptions.
The offensive line will also have its hands full trying to contain Robert Nkemdiche and the other members of the Ole Miss defensive line. While the unit has only totaled three sacks on the season, McElwain is still worried about their disruptiveness.
"The guys they're(the offensive line) playing against this week are probably licking their chops," McElwain joked. "Probably think they're going to set an NCAA record for sacks."
The Gators and Rebels will kickoff on Saturday night at 7:00 in the Swamp.