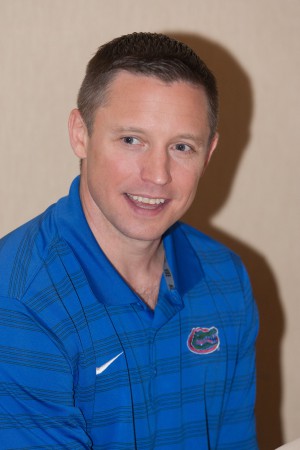 The storyline has been highlighted over and over all summer and now into the start of the 2015-16 college basketball season — no more Billy Donovan on the bench for the Florida Gators. Instead, it will be a man 12 years his junior with 401 fewer career wins as a head coach. Mike White takes the reigns in the Gators' first regular season game on Friday night as they visit Navy for the Veterans Classic. This will mark the first time since 2004 that Florida has not opened the season at home. They did have a pseudo home game, albeit an exhibition and a blowout, against Palm Beach Atlantic last Thursday. UF committed an ugly 23 turnovers in that match up, and know they will have to take much better care of the ball against what they expect to be an aptly disciplined Midshipmen crew.
"We're searching for an identity," White said. "We feel like we have a unique opportunity to develop throughout the year, probably more than other teams."
Navy returns their third and fourth-leading scores from last season in guard Tilman Dunbar (9.1 ppg) and center Will Kelly (6.1 ppg). Senior Kendall Knorr along with sophomores Jace Hogan and Shawn Anderson will likely join them in the starting lineup. The Midshipmen are led by Ed DeChellis, who is just 33-89 in his time at the Naval Academy. However, don't expect an inexperienced Florida team to waltz into Alumni Hall and come out with an easy victory. Navy welcomed Final Four participant Michigan State into town last season and scrapped with them before ultimately falling, 64-59.
The Gators are expected to be without senior forward Alex Murphy for about a month with a partially torn plantar fascia in his right foot.
"We could tell there was a drop off in the level of communication and energy in the first couple practices after Alex had gone out," White said.
Expect the staff to rely on sophomore Devin Robinson even more in Murphy's absence, along with DeVon Walker, Brandone Francis-Ramirez and JUCO transfer Justin Leon. Tonight's projected starting lineup for the Orange and Blue is Kasey Hill, KeVaughn Allen, DeVon Walker, Dorian Finney-Smith and John Egbunu.
Tipoff from Alumni Hall is set for 9:30, following the North Carolina-Temple match up. Coverage from Annapolis can be heard on Country 103.7 the Gator beginning at 8:55, and you can watch the game on CBS Sports Network.