In 1991, the Detroit Lions won both regular season games against their division rivals, the Green Bay Packers. Last night, with no time left on the game clock and a two-point lead, the Lions (4-8) were one play away from sweeping the Packers (8-4) for the first time in over two decades.
The Packers had lost four of their previous five matchups and the Lions were riding a three-game win streak. However, in one of the most impressive plays of the year, Green Bay somehow managed a 27-23 victory.
On the previous down, Detroit defensive end Devin Taylor was called for a facemask penalty after tackling Aaron Rodgers on the would-be final play.
The penalty gave Green Bay one more shot at the endzone and A-Rod delivered. In a wild turn of events, Rodgers ended the game with a 61-yard bomb, connecting with tight end Richard Rodgers for a touchdown.
Rodgers knew the throw was on target, but accredited his receivers for being in the right position. Meanwhile, Richard Rodgers finished the game with eight receptions and 146 yards, his career high for both stats.
The second half comeback was made possible by Green Bay's defense, which buckled down in the second half after allowing 17 points in the first quarter. Lions head coach Jim Caldwell said his team prepared well and fought hard, but fell short in the end after giving up a 20-point lead.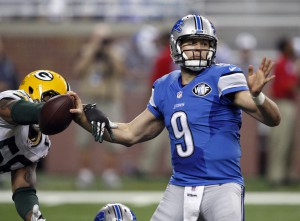 Fate seemed to shine on the Packers, despite a slow start to the game. In the second half of a wacky game, Green Bay's comeback victory was aided by two key fumble recoveries. With five minutes to go in the third quarter, Packers RB James Starks fumbled into the endzone before WR Randall Cobb recovered the loose ball for a score. The Lions then coughed it up on their next drive, as Packers' DE Julius Peppers earned a strip-sack on QB Matthew Stafford.
Detroit's 20-14 lead was fading fast as the fourth quarter began, but both teams stumbled offensively until a 42-yard Matt Prater field goal. Detroit went up 23-14 with 6:29 left to play, deflating the Packers and making it a two-possession game.
That's when Aaron Rodgers went to work. The Packers' QB said this victory was one of the greatest he's been apart of.
After his 17-yard touchdown scamper, Rodgers needed one more score. Green Bay's defense came through, and with 23 seconds left, the Packers got another chance at their own 21-yard line.
The rest is history.