The LSU Tigers (16-11) travel to Bud Walton Arena to take on the Arkansas Razorbacks (13-14) in a great SEC match-up tonight. The Tigers have lost three of their last four games including Alabama, South Carolina, and most recently Tennessee. Overall, the Tigers have a 9-5 SEC record
LSU is currently on a two game losing skid but still the highest scoring team in the SEC averaging 80.1 points per game on 46.9 percent shooting from the field, and 33.5 percent from behind the arc. The Tigers are averaging 6.2 three-pointers per game and have an assist to turnover ratio of 1.33.
The Razorback are 12-3 at home this season with an SEC record of 6-8 and currently tied for 10th with Tennessee. Arkansas is coming off a win against Missouri at home 84-72, where Dusty Hannahs and Moses Kingley leads the team with 16.1 points per game.
Overall offensively, Arkansas is averaging 79.9 points per game on 44.5 percent shooting from the field, and 40.3 percent shooting from behind the arc. Defensively, Arkansas is allowing their opponents to average 76.1 points per game on 43.9 percent shooting.
Arkansas and LSU previously meet this season on the road in a close game with the Tigers coming out on top, 76-74.
For the Tigers,  senior guard Keith Hornsby will miss the game and will most likely be out for the rest of the season due to suffering a hernia injury during LSU's loss against Tennessee on Saturday. Head Coach Johnny Jones, says he hasn't heard anything back yet about Hornsby's injury but will definitely not play the Arkansas game.
Coach Jones said injury not external. Expected that Hornsby would "probably" miss Ark game Tues but rest of schedule still to be known.

— LSU Basketball (@LSUBasketball) February 22, 2016
Although being without Hornsby will be difficult for the team, the Tigers still have freshman Ben Simmons. He currently leads the SEC with 11.9 rebounds per game and is ranked sixth in the country for that category. Many view Simmons as one of the five best players in college basketball this season. He is likely to be the number one pick in the 2016 NBA draft.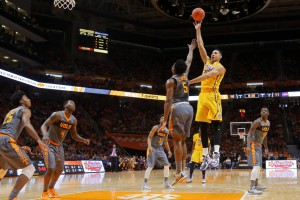 Head Coach of the Arkansas Razorbacks Mike Anderson says Ben Simmons has a lot of accomplishments as a freshman. 
The Razorbacks have a lot to look out for this game and know that they must win this game because each and every game is so critical to the team's success.  Anderson also says the team needs to improve its offensive play. 
Tonight's match up starts at 7 p.m on ESPNU.