When many think of the annual NFL Owners Meetings, nothing very exciting comes to mind. Usually, there's discussion of a few rule changes that never come to fruition, a couple more that make minor adjustments to the game, and not much else that fans can get excited about.
However, this year seems to be different. There are multiple interesting facets in the NFL that are going to be looked into, both with relocation and over 19 rule changes that five teams and the Competition Committee have suggested. There is the upcoming NFL Draft, where teams will look to find their future franchise cornerstones.
There is also the chance that some owners or head coaches will discuss trade ideas and moves that could be made in the near future.
Let's start with the relocation.
The Chargers will propose a plan to keep the team in San Diego, and will receive $100 million if they are to remain in the city to build a brand new stadium. However, there is a chance that the team will decide to move to Inglewood, California and share a new stadium project with the newly relocated LA Rams. The same situation is occurring with the Oakand Raiders as well. Both teams are limited in time and have to find out whether or not they are going to build new stadiums or sign short term leases in order to remain where they are. These two teams in particular will be a prominent topic of discussion at the Owners Meetings.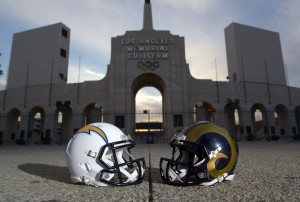 There are also the 19 proposed rule changes.  One is a mandatory ejection that would be enforced whenever a player receives two unsportsmanlike conduct penalties. This rule is being met with some scrutiny, however, as the proposal won't really change much. The rule would not remove players that forced unnecessary contact, and it gives the player two opportunities to make illegal plays before repercussions are felt. Another foul-related proposal that comes from the Competition Committee suggests that any grabbing of the jersey at the name plate of higher should result in a horse-collar penalty. This is bound to be met with some disagreement from defenders especially, as it further limits the area that defenders can grab to make tackles.
Both Minnesota and Washington proposed a rule that allowed teams three challenges instead of two, making the opportunity to get the first two challenges right in order to receive the third unnecessary. But while that might be more fair for the league, the amount of time that it can extend the game could ultimately end any hopes of that happening.
Teams are preparing for the NFL Draft, as Pro Days are being held across the nation for young athletes looking to prove themselves to teams. This year in particular is interesting, as there isn't a clear cut number one prospect, meaning the way that the Draft can go varies in different ways depending on who the Titans select with the first pick. There are also rumors that the Titans have been looking to move out of the number one spot via trade, which can dramatically change the way that the draft goes.
Jacksonville Jaguars GM Dave Caldwell epitomized the ideology of every team in the league currently, saying if they had to pick someone now, they could, but they would still like to meet with other players to get a better judgment on who to pick.
And while all of the official smorgasbord Owner official things are being discussed, there are rumors swirling around some players.
Lately, talks between the San Fransisco 49ers and Denver Broncos have been heating up concerning the services of QB Colin Kaepernick, as the Broncos are trying to recover from the loss of Peyton Manning to retirement and Brock Osweiler to free agency. Currently, the Broncos only have one quarterback on their roster with experience, and that is Mark Sanchez, who was traded to the team from the Philadelphia Eagles for a conditional draft pick. Most likely, the team wouldn't feel comfortable with him as their starter, as he has just two more touchdowns (86) than interceptions (84). Meanwhile, the 49ers are in full out rebuilding mode, and while they haven't been clear on wanting to move Kaepernick, they showed last season they are willing to use others like 28 year old for Blaine Gabbert, a former first round pick who saw little success in Jacksonville. Whatever happens, there is a likelihood that it will at least be brought up between the two owners or head officials of the teams.
There is much to discuss this year, and as the meetings progress, a clearer image of what the 2016-2017 NFL season has in store for us can finally start to cultivate. It's a slow time in football, so any type of news that can hype up the next year is readily accepted.