Think of your favorite sports team. Maybe they're your hometown team. Or maybe you're dedicated to your alma mater, or your parents' alma mater. Or maybe you like them simply because of the colors they wear. You probably don't know anyone on the team personally or have any other connection to them other than your unfailing support. But what if I told you, you can have a personal relationship with them. No I don't have meet and greet tickets for you, but what I can offer you is more than ten minutes of picture taking.
It's a virtual relationship! People meet online all the time, so why not connect with your favorite sports team in the same way? Now before you swipe left, let me tell you what makes these teams' profiles compatible.
1. The sass is on point.
The key to a good relationship is keeping each other on your toes. The New Orleans Saints are quick on their wits and will keep the laughs coming. They always have a comeback for whatever post is thrown their way.
Analysis ya can't get anywhere else on the newest Saint @Coby from his former teammate https://t.co/d2pudaQ5W5

— New Orleans Saints (@Saints) March 10, 2016
And they aren't afraid to make light of a serious situation.
Faces of the 40 yard dash at the 2016 NFL Combine PHOTOS: https://t.co/EfqO4X2TeF #TBT pic.twitter.com/y6VWoNVW37

— New Orleans Saints (@Saints) March 3, 2016
But if the Saints aren't really your type, try the Atlanta Hawks. Their GIFs are perfect for every occasion.
TIP OFF! pic.twitter.com/5jESULwmWx

— Atlanta Hawks (@ATLHawks) March 13, 2016
Our defense right now tho… pic.twitter.com/QdT2PMi7LO

— Atlanta Hawks (@ATLHawks) March 9, 2016
2. You always know where to find them.
We've all had that significant other who's a little bit spacey. They don't answer your texts or calls, never come home when they say they will, and are often off doing their own thing. With the LA Dodgers, you won't ever have to worry. In 2013, Dodger Stadium was the most checked in sports venue in the US.
Plus judging by their Instagram, Dodger Stadium has some trendy photo opportunities that will definitely increase your likes.
3. They're willing to try new things.
Sure you can catch up with your favorite team on Facebook or Twitter, but that's so mainstream. The Pittsburgh Penguins are sharing their creative side through Pinterest. Love making snacks for the watch party? They've got a board for that.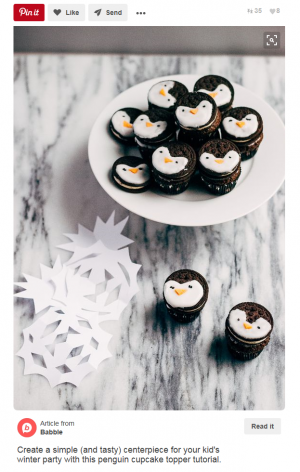 Looking for some new home décor? They've got a board for that. Searching for your hockey soul mate? They even have a board for that.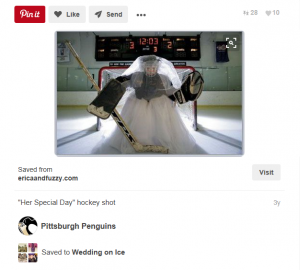 You better snag this one quick ladies (or gents if you also enjoy a good Pinterest #noshame) because with over 5,400 followers, the Penguins know how to please a crowd.
4. They're not afraid to show their goofy side.
In my opinion, it's important to be with someone who makes you laugh. Although this Australian cycling team may not be the first thing that comes to mind when you think of sports, they sure know how to put a smile on your face. The ORICA GreenEDGE team uses their YouTube page to give you a "Backstage Pass" into their everyday lives. Most popular are their music video parodies, and they're definitely willing to get a little funky.
All of their videos incorporate their surroundings, giving you the chance to [virtually] travel the world together. So why not give them a call?
5. They know how to speak your language.
Maybe English wasn't your first language. It's not unusual for people to live or work in a different country in which they were raised. According to the Migration Policy Institute, about 13 percent of people living in the U.S. are immigrants, and even more are children of those immigrants. If you fall in this category, then you need a team that can connect with you in a different way. And FC Barcelona understands that. Not only is the Spanish soccer team's Facebook page rich with pictures and videos, but each of their posts are also translated into three different languages: English, Spanish, and Catalan.
Plus, what's better than a trilingual soccer (or should I say fútbol) team?
6. You might even learn something new.
They may not have the same ball-handling skills as other athletes, but these racecar drivers sure know how to work the road. Motorsports aren't as popular (at lease among my friends) as your typical football or basketball team. That's why Aston Martin Racing has made it their goal to educate, and therefore generate, more fans using their social media accounts. They're not here to rub it in your face; they're simply trying to win you over by showing you what they do best!
And they love a good Q&A session. You can also find them using #teamAMR.
7. They're all about giving back to the community.
It's important to find someone who puts others before themselves. After all, how would we get by without a little help from our friends? If you value a strong sense of community, then the Chicago Blackhawks are your perfect match. Their #WhatsYourGoal campaign on Twitter allows fans to reach out to the hockey team with a personal request for either themselves or someone special. And if this doesn't melt your heart, I don't know what will.
After watching that, if you still aren't convinced the Blackhawks are the ones for you, maybe it's time to introduce them to your family. Make sure to invite your grandparents. They always know what's best for you.
Jenny's goal was to bring senior citizens to a home game.

Coach Q brought the game to them instead. #WhatsYourGoalhttps://t.co/lSmsejwZXD

— Chicago Blackhawks (@NHLBlackhawks) March 16, 2016
Finding the right fit is important in any relationship. You don't even have to be a sports' fan to fall in love with one of these social media accounts. Each of these teams has something different to offer, whether you're looking for a good sense of humor, a creative mind, or a caring heart. So if Tinder isn't delivering any good matches, why not try something new?
Sources:
http://bleacherreport.com/articles/2600489-10-best-sports-teams-on-social-media-in-2015
http://shortyawards.com/category/6th/sportsteam
http://www.doz.com/social-media/7-sports-teams-get-social-media-right
http://socialnsport.com