It was a packed house Friday night at McKethan Stadium to see the second ranked Florida Gators (25-3) take on number one Texas A&M (22-4) in an SEC series opener.
The Gators took the first game of the series 7-4, pounding out 12 hits in the victory.  Freshman Jonathan India led the way, going 4 for 4 on the night.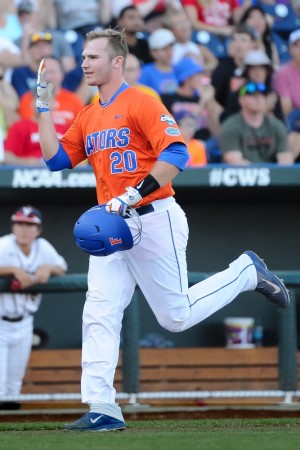 After a scoreless game through the top of the second inning, the Gators rallied to score two runs in the bottom of the inning.  Sophomore Jeremy Vasquez doubled to right center field, scoring Deacon Liput.
Not long after, freshman Jonathan India, doubled to left field, which allowed Vasquez to score.
In the third inning, Florida extended its lead to 3-0 on a solo homer by junior Peter Alonso.   In the fourth inning, an India double after an Aggie error pushed the Gator lead to 4-0 as freshman Nelson Maldonado scored an unearned run.
Florida would pad the lead to 7-0 in the sixth inning. Vasquez, India and Maldonado found home plate for the Gators during the inning.
Florida junior pitcher Logan Shore got the start for the Gators but he did not get the win as he pitched just 4.1 innings, allowing five hits while striking out five batters and walking three. Reliever Kirby Snead replaced Shore in the fifth and worked out of a bases loaded jam.
The Aggies' first run came in the seventh inning when junior Boomer White's right field hit allowed J.B. Moss to score.
Texas A&M finished the game on a strong note with a three run ninth inning.  Ryne Birk doubled to center field, and Austin Homan found home plate.  Birk managed to score during Hunter Melton's two run homer.
Gator's head coach Kevin O'Sullivan talked about his what his team did well tonight, as well as how they can improve for Saturday.
Both teams will meet again Saturday night for the series's second game.
Coverage– Saturday's game is scheduled for 7:30 p.m. at McKethan stadium.  Live coverage will be available on ESPN Gainesville 95.3 FM and SEC Network.