First-year coach Billy Donovan and the Oklahoma City Thunder pulled out an unexpected win Monday night when they matched up against the Golden State Warriors in Warrior territory.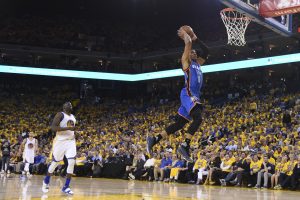 The Warriors and the Thunder played each other three times in the regular season, each time the Thunder came up short.
It did not look good for the Thunder following the first half where Golden State lead OKC 60-47.
At the start of the second half, the Thunder stepped onto the Oracle Arena floor determined  to break the Warriors winning streak over the Thunder.
Coach Donovan said Westbrook had the ability to come back strong and with such determination.
OKC came back strong in the second half with Russell Westbrook leading the team scoring 19 points in the third quarter. Westbrook's 19 points were the most the Warriors allowed to an opposing player in a quarter this postseason.
Russ: "My teammates do a great job trusting me. I tried to stay aggressive and find ways to impact the game." pic.twitter.com/XnBhzwJSre

— OKC THUNDER (@okcthunder) May 17, 2016
Westbrook was not alone in this rally as Kevin Durant helped by scoring 26 points for the game, leading the Thunder to a 108-102 win.
The Thunder will take on the Warriors on Wednesday at the Oracle arena in Oakland, California. The game is set to start at 9:00 p.m.