With 64 teams heading into 16 different regionals, the 2016 baseball championship has graced us with it's presence once again.
Three different teams from the state of Florida are hosting a regional. This triple set from the Sunshine State includes, Florida, Florida State, and Miami. With home-turf advantage, these foes hope to outshine their regional opponents to advance on in the tournament–with the potential of facing each other on this "Road to Omaha."
Other teams from the state of Florida who are battling it out in regional-play are Stetson University and Florida Atlantic University.
TALLAHASSEE REGIONAL — #1 Florida State (38-20) faced off against #4 Alabama State on Friday.  The Seminoles took advantage of playing in front of the home crowd and blasted past the Hornets, 18-6.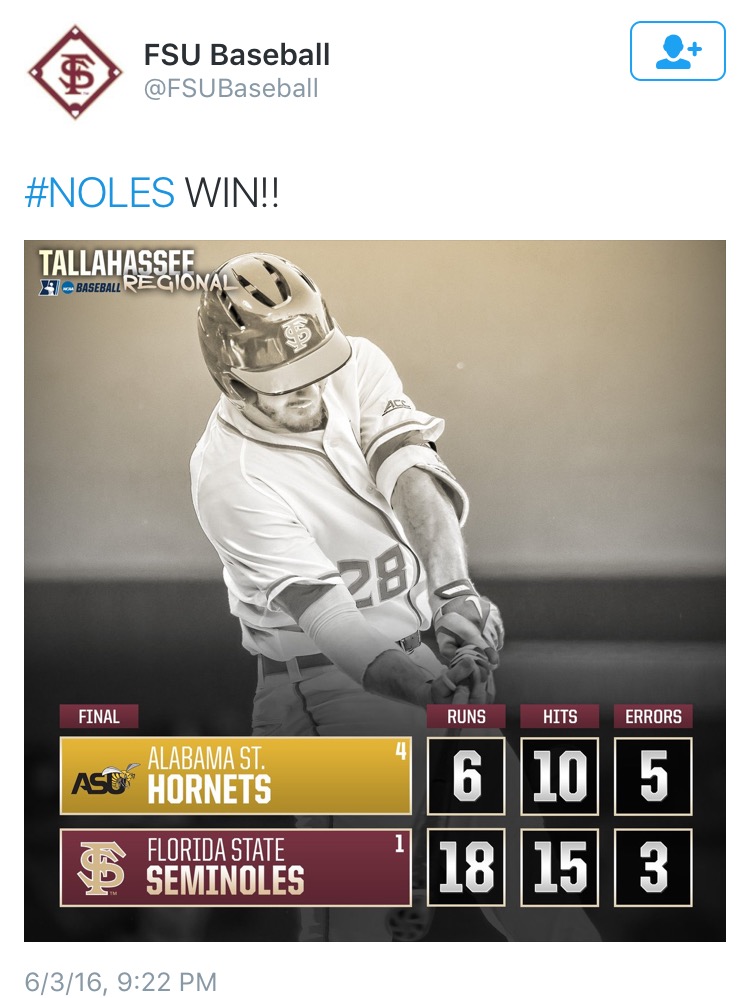 This is Florida State's 39th consecutive appearance in the NCAA Tournament, and 37 straight under head coach Mike Martin.
#2 Southern Mississippi (41-16) took on #3 South Alabama (40-21) on Friday to swing into regional-play. Southern Mississippi came out swinging and did not stop. The Golden Eagles routed South Alabama, 14-2 by scoring a whopping 11 runs in the sixth-inning. There were 15 batters and three pitching changes in the sixth-inning alone.
Seminoles head coach, Mike Martin says his team cannot expect to win at this stage in the game. 
Today, it will be a battle of the state of Alabama in the loser's bracket when #3 South Alabama takes on #4 Alabama State. This match up is scheduled for noon on ESPN3. And for Game 2, #1 Florida State will try and knock off #2 Southern Mississippi at 6 p.m. on ESPN3.
CORAL GABLES REGIONAL — #1 Miami went head-to-head against #4 Stetson on Friday night.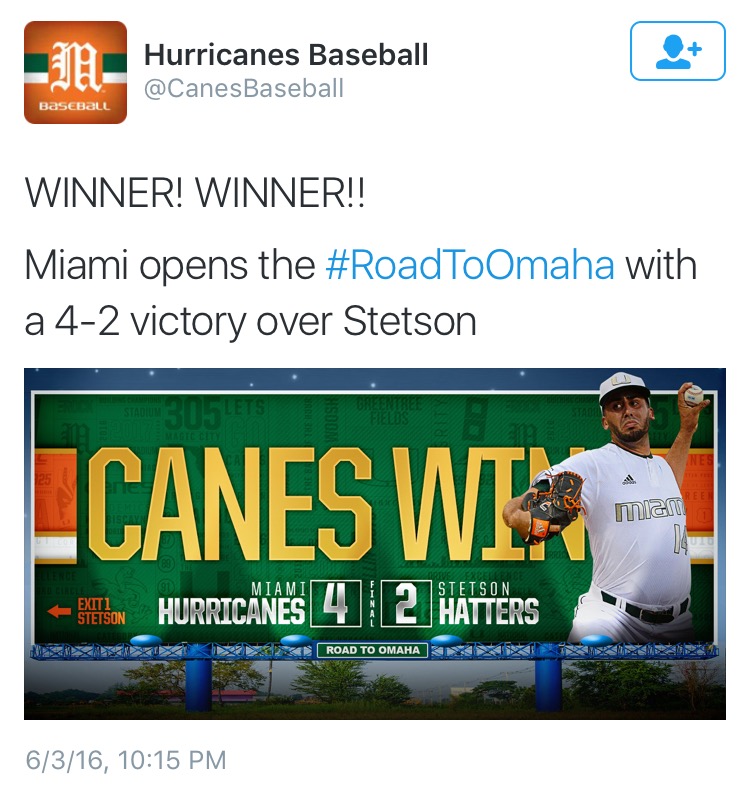 Stetson made the first the move in the second-inning to have a 1-0 lead over the home team, but the Hurricanes had enough power to get a run in throughout the third-inning. Stetson stayed in reaching distance, but Miami was victorious, 4-2.
This season, the Hurricanes racked up a 45-11 overall record and won it's second ACC regular season Championship in three years. Miami earned a national three seed, which is the highest seed for the Hurricanes since 2008.
#3 Long Beach State and #2 Florida Atlantic were also under the Friday night lights. The Dirtbags came out swinging and left the Owls scoreless until the seventh inning. Florida Atlantic's run in the seventh would be the only time they would come across home-plate and Long Beach State cruised on. Long Beach State upset Florida Atlantic, 5-1.
#1 Miami will face #3 Long Beach State today at 7 p.m. on ESPN 3. #4 Stetson and #2 Florida Atlantic will play in the loser's bracket today starting at 1 p.m. on ESPN 3.