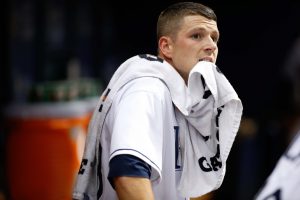 Around a month ago, the Tampa Bay Rays were in a decent position to make a wild card push; but after a terrible 3-21 stretch since June 16, the Rays find themselves in last place in the division and 16 games under .500. The struggles were put on display last night as the Los Angeles Angels beat the Rays 7-2 in Tropicana Field. Starting pitcher Drew Smyly gave up seven runs by the fifth inning before being pulled. As manager Kevin Cash states, Smyly was making some good pitches, but the team didn't help him out as best as they could. Smyly's struggle last night is something fans are growing accustomed to. With a 2-10 record on the season, there have been questions whether or not Smyly should be pulled from the starting rotation. In response, Kevin Cash has said Smyly has not given them his best outings, but the team hasn't been supporting him enough either.
The game with the Angels today will be the final match up in the series. Tomorrow, the Rays will start their last series before the All-Star break when they travel to Boston to face the Red Sox. The three-game series will be the last chance for Tampa Bay to gather some momentum as the first half of the season comes to a close. Despite the horrible stretch over the last month, their have been some great moments for the Rays in the first half of the season. At one point the Rays were leading major league baseball in home runs and were in the top half of the AL East.
The game between the Rays and Angels completed at 3:11 p.m. Thursday afternoon with the score 5-1 in favor of the Angels.
— #VoteLongo (@RaysBaseball) July 7, 2016
They Rays will start a four-game road series with the Boston Red Sox Friday evening with coverage starting on WRUF ESPN Gainesville 95.3 FM at 6:30 p.m.