It's difficult to say that the quarterback for the Dallas Cowboys is ever under the radar, but rookie Dak Prescott out of Mississippi State might have just been that when the 2016 NFL season kicked off. With much of the attention going into the season on the injury to Tony Romo and No. 4 overall pick Ezekiel Elliott, people didn't really know what to make of the fourth round pick in Prescott when he was named the starter.
After two impressive games, however, there is certainly reason for defenses around the league to take notice of Prescott now.
Dak Prescott sets NFL record for most passes w/o an Int in a player's 1st 2 games in NFL history. (via @EliasSports) pic.twitter.com/phaFWicdHj

— SportsCenter (@SportsCenter) September 18, 2016
Prescott, who has thrown for 519 yards and has also ran for a touchdown, has proven difficult to deal with for opposing defenses. Although his 62.7 completion percentage doesn't exactly jump off the stat sheet, his zero interceptions certainly stand out to head coach Jason Garrett. Garrett highly praised Prescott's poise and composure under center for the Cowboys, which is certainly a good sign for any rookie quarterback.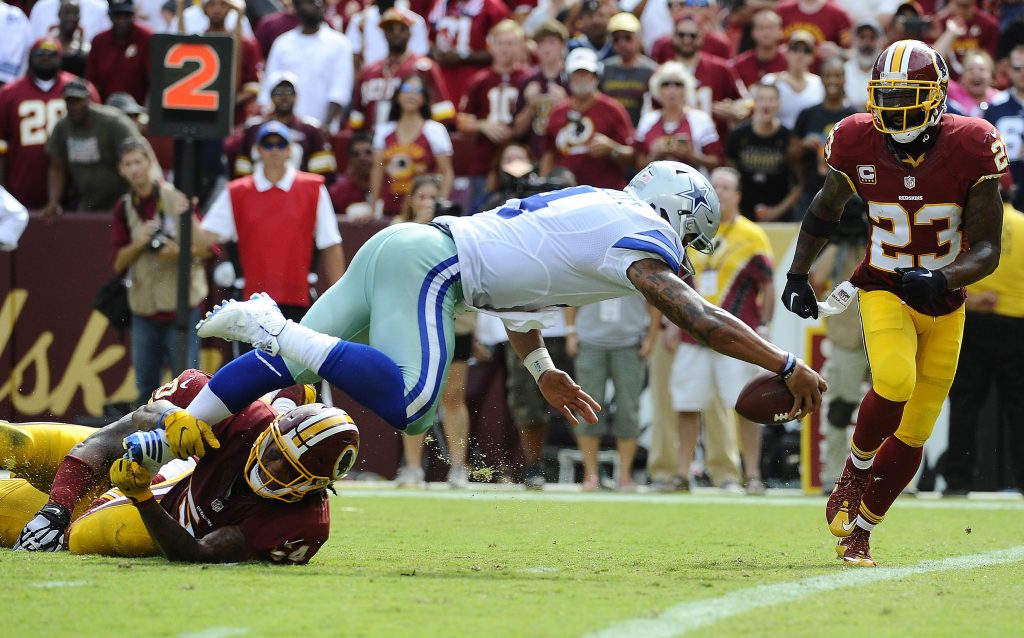 During his time at Mississippi State, Prescott finished with 11,897 total yards and 111 total touchdowns which are good enough for third and fourth in the all-time SEC rankings respectively. He was certainly no stranger to success in college, but for Prescott his first NFL-win this past Sunday over the Redskins was still something special. 
After his first two games in the National Football League, Dak Prescott has a 1-1 record and was only one point away against the Giants in Week 1 from being 2-0. The Cowboys franchise has never been one to temper their expectations, and with a rookie quarterback that has two impressive divisional outings already under his belt, you can count on Dak Prescott being on the radar for Cowboys fans and NFL defenses alike the rest of the way.