Miami, along with the rest of the country, is devastated this week after Marlins pitcher Jose Fernandez's untimely and shocking passing.  The Miami Heat received tough news themselves, being forced to question Chris Bosh's future with the team. The squad will be going into this season with some questions for an unexpected season after taking on 10 new men on a 20 player roster.
Chris Bosh Questionable
One of the Heat's highest paid players, Bosh ($75.8 million) has been raising questions because of his health after episodes of blood clots.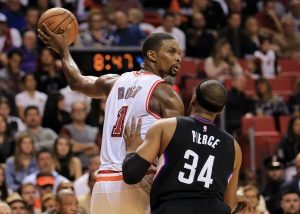 The 32 year-old forward will not participate in Tuesday's first preseason practice after failing a physical.  The Heat has not disclosed how Bosh failed, as they are protected by the ability not to release medical records.
Heat President Pat Riley said the team is not working for his return and it's up to Bosh himself to decide if his career is over.
Sources: Miami Heat increasingly believe Chris Bosh's career with franchise is over. For months, Bosh hasn't wanted to speak with Pat Riley.

— Adrian Wojnarowski (@WojVerticalNBA) September 23, 2016
Bosh says these setbacks will not keep him from chasing his future accomplishments.
Hassan Whiteside Rolling in the Big Bucks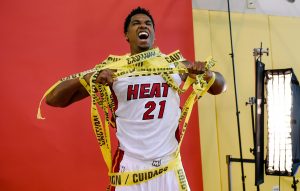 Earning more than Bosh is Whiteside with a $98 million contract.  Concerns have been raising: Will Whiteside be found complacent after swimming in that pool of cash?
Whiteside answers that simply by asking why he would get complacent when he's in a position that he's been working towards for 27 years.  With Dwayne Wade and Chris Bosh gone, Whiteside will find himself as the face of the Miami Heat.
Dion Waiters Hits the Scale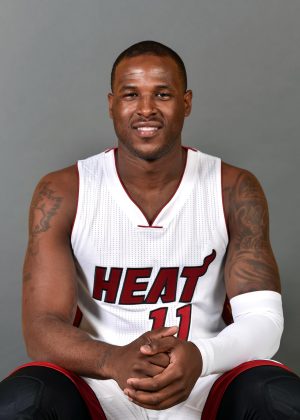 Will Dion Waiters replace Dwayne Wade at shooting guard in the starting lineup?   Waiters has been training to be in the best shape of his life by losing 12 pounds since he signed with the Heat in July and he plans to lose more.  He has dropped from 10 percent body fat to 7.5 percent, an initiative he undertook after head coach Erik Spoeltstra chided him for his fitness.
Waiters took a pay cut signing with the Heat with a two-year contract, $6 million  compared to $6.8 million by the Thunder.  He said the money didn't really matter to him.  He just wants to play where he feels comfortable and the money will take care of itself.
Rob Fodor- "The Shooting Guy"
The Heat's shooting is sure in for a treat at the time they need it most.  For the first time in the Heat's 29 seasons they will bring on a shooting coach.  Spoelstra brought Rob Fodor to the Heat after working with him at a youth basketball academy.  Reports say Fodor will be focusing mainly on developing 20-year-old 2015 first-round pick Justise Winslow, who spent a few weeks in July practicing with the gold-medaling US Olympic basketball team.
Day one of the Heat's training camp kicks off Tuesday in the Bahamas.
Ready to work. pic.twitter.com/6IZ1DDvioC

— Miami HEAT (@MiamiHEAT) September 27, 2016