Florida State (3-1, 0-1 ACC) will be looking to get on the win column in the ACC with their second conference match-up this year. After an embarrassing loss against Louisville in Week 3, Florida State and head coach Jimbo Fisher are still searching for a complete and impressive game against a quality opponent.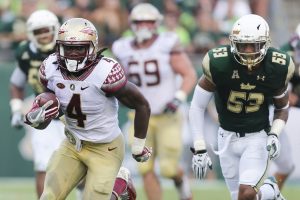 The Seminoles' running backs Dalvin Cook and Jacques Patrick will need to set the tone for Florida State's offensive attack that has been up and down with redshirt freshman quarterback Deondre Francois. Last Saturday, Dalvin Cook rushed for a career high 267 yards and 2 touchdowns, finally having the breakout game many already expected him to. Patrick added 124 yards and one touchdown in the 55-35 win against USF. FSU will need to continue this dominant running attack against a North Carolina team who struggles immensely against the run. The Tar Heels have given up 961 yards on the ground, the most in the ACC.
North Carolina (3-1, 1-0 ACC) has a threat of their own with quarterback Mitch Trubisky. Trubisky threw for more than 45o yards and five touchdowns in a comeback win against Pittsburgh in their ACC opener. The junior signal caller is currently third in passing yards in the ACC and hopes to be a big problem for Jimbo Fisher's defense. For Trubisky to succeed though, he will need a balanced attack and help from running back Elijah Hood who struggled last week against Pittsburgh. Trubisky will also need contribution from wide receiver Ryan Switzer who had a great performance with 16 receptions for 208 yards and a touchdown against the Panthers.
Kick off is today at 3:30 p.m. at Doak Campbell stadium.