Few college football games this weekend carry the weight of consequences that No.8 Texas A&M vs. No.9 Tennessee does.
Each team enters Saturday undefeated, sporting identical 5-0 records. The Volunteers hold the top spot in the SEC East and the Aggies are tied with Alabama for the throne in the West. If any team holds an advantage, it might be Texas A&M because they host. Tennessee head coach Butch Jones knows that the noise in College Station can be a problem, but is counting on his team being effectively able to block it out.
Tennessee Offense
And if the Vols need to look to someone to lead them, they just need to peer over to who's under center. QB Josh Dobbs, praised for his calm demeanor, is someone Jones believes can be successful on the road. The senior QB has had a good season thus far, throwing for 1,035 yards, 13 touchdowns with a 57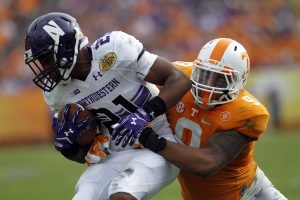 percent completion rate. Perhaps even more importantly, he continues to be a force on the ground. The 6-foot-3 QB has notched 267 yards on the ground with five touchdowns.
Dobbs will once again rely on receivers Josh Malone and Jauan Jennings. The two have combined for 28 receptions, 523 yards and eight touchdowns this season. RB Jalen Hurd is the Vols' primary threat on the ground with 407 rushing yards.
Pass Rush Power
Along with the Tennessee offense comes some of the best pass rushing in college football. Defensive end Derek Barnett received plenty of praise from Texas A&M coach Kevin Sumlin. The junior has been a headache for opposing offenses, recording 23 tackles (15 solo) and four sacks this season. Sumlin said his productivity on the field has set him apart.
That said, Barnett can't do it all on his own. The Vols have surrendered 62 points to Florida and Georgia the last two weeks, and the Aggies outpace both of those teams.
Texas A&M Offense
Tennessee is set to get a taste of their own medicine when they face Aggie QB Trevor Knight. The senior QB has more pass yardage than Dobbs (1,261 yards) with seven touchdowns. And like Dobbs, he also likes to use his legs, running for 392 yards to go along with six touchdowns this season. Receiver Josh Reynolds has outperformed any Vols receiver this season with 399 yards and three touchdowns, and RB Trevor Williams has 487 yards with four touchdowns thus far.
Aggies Ailing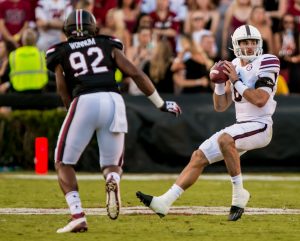 Despite home-field advantage, the Aggies are awaiting word on four crucial starters who missed the South Carolina game. DE Myles Garrett, WRs Speedy Noil,  Ricky Seals-Jones and offensive lineman Jermaine Eluemunor all have their status pending for the game. Garrett, while not as prolific as Barnett, has still recorded 11 tackles (6 solo) with three sacks in four games.
Even without a few starters, Jones expects the Aggies are a good enough team to handle the full effort from Tennessee.
Kickoff is at 3:30 p.m. EST on CBS.