After shutting out Georgia last Sunday 3-0, the Florida Gator Volleyball team is set to host Ole Miss this Friday.
Gators Rolling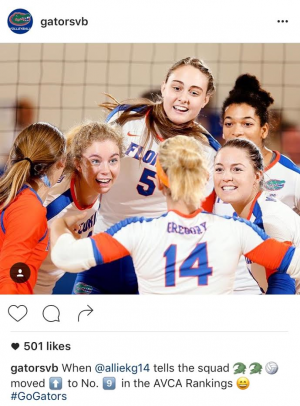 Florida is currently ranked No. 3 in the SEC, while Ole Miss stands at No. 10. The Gators are 8-1 in conference play, and 18-2 overall. Florida is feeling confident after last Sunday's game, in which All-American Alex Holston and outside hitter Carli Snyder racked up 15 kills apiece (their highest totals in a three-set match this year).  Florida improved to 60-9 all-time against UGA.
The Gators continue their four-match homestand tomorrow. They hope to uphold their hitting percentage of .438 from last game, which was tops in the nation. Florida plays again on Sunday against LSU, while Friday's game is Ole Miss' only one of the weekend. Tomorrow's matchup is one of the many games that the Gators have used this season to prepare for next month.
Three out of five of Florida's offensive targets are returning All-Americans. Red shirt sophomore setter Allie Monserez is happy with how her teammates  have been playing so far.
https://twitter.com/GatorsVB/status/791671768595300353
The Gators will hope to make their record in the SEC 9-1 after tomorrow night's game. The match starts at 7 p.m. in the Lemerand Athletic Center, where Florida is 6-1. You can catch the game on the SEC Network, and listen along on ESPN Gainesville 95.3 FM.