The Oakland Raiders will take a trip to Arrowhead Stadium to face the Kansas City Chiefs in front of the whole nation on Thursday Night Football.
Best in the (AFC) West
Both teams are currently battling for the AFC West crown. Oakland Raiders quarterback Derek Carr says the AFC West is the best division in the NFL and he loves the competition it provides. The last time these teams faced each other, the Chiefs handled the Raiders 26-10. Oakland Raiders head coach Jack Del Rio says despite his players being sore, they'll be excited and ready to play.
The 10-2 Oakland Raiders are on a six game winning streak and currently sit at the top of the AFC West. Carr says playing the Chiefs again is easier because its still the same players on the team, but he will prepare the way he normally does.
Chief Concern
Kansas City Chiefs quarterback Alex Smith is also looking forward to the matchup this Thursday night and says they look forward to all these division games for a reason.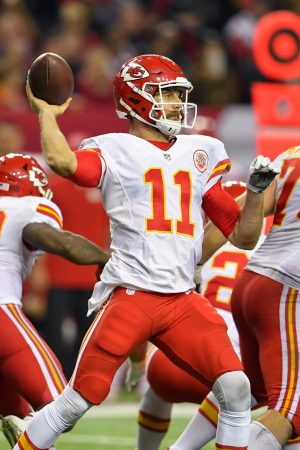 The Chiefs are 9-3 and are second to the Raiders in the AFC West. They currently lead the AFC Wildcard, and are the favorites to win it. However, they'd much rather have the AFC West title to avoid playing all of their playoff games on the road.
The Chiefs won their last two games, defeating both the Denver Broncos and the Atlanta Falcons. In their last game they beat the Falcons 29-28. Safety Eric Berry, an Atlanta native, accounted for eight points on his own. Berry returned an interception for a touchdown, and then returned another interception during the Falcons 2-point conversion attempt to win the game.
Frozen Tundra?
It looks like the weather will indeed be a factor both teams will have to deal with. The weather prediction is a high of 26 degrees and a low of 11 degrees.
Carr stated that quite frankly, he loves the cold and playing in cold weather places while at Fresno State has given him experience dealing with the elements he might face.
Rivalry Renewed
The Kansas City Chiefs and Oakland Raiders have been playing each other twice a year for the last 57 years.
Kansas City Chiefs linebacker Derrick Johnson believes the Kansas City-Oakland rivalry has returned. He admits it's not as nasty as it used to be, but this is the beginning of a new era of the rivalry.
Kickoff is at 8:25 from Kansas City, Missouri at Arrowhead Stadium, and can be seen on both NBC and the NFL Network.