A new and fresh wave of young managers has arrived to the Premier League. It is already reshaping one of the most important soccer leagues in the world. A Spaniard, an Italian, a German and an Argentinian have been enriching English soccer with their tactics and style of plays that are relatively "modern" in the British soccer. Four different personalities with four different tactical schemes that have one common goal: Offense.
The Citizens' New Beginning
Josep Guardiola, 45, has always made clear to his players and soccer fans what is his idea about how soccer should be played. He implemented the positional play based on the possession of the ball in his two former teams: FC Barcelona and FC Bayern Munich. Guardiola's achievements on both clubs have been object of both admiration and envy.
For a team that wants to become the role model of its sport, it needs to have a manager who knows how to transmit his or her ideas and a roster that comprehend and adapt perfectly to the idea.
Guardiola, like he did in Germany, brought an idea that is not common to see in the English soccer culture. Manchester City changed the way that they used to attack and defend completely. Now it looks like a more complete team on both aspects of the game. It is a synthesis, in which everyone shares the role of attacking and defending: total football. Guardiola needed to bring players who are able to understand and deploy this idea. That is why he brought Claudio Bravo, John Stones, Ilkay Gündogan, Leroy Sané and Nolito.
These are players who deploy the passing game in a perfect way. Bravo is a ball-passing oriented goal-kepper who is able to break lines with his accuracy through short and long passes. Stones is a center defender who has a great ability to drive the ball to midfield and be the nucleus of the build-ups on offense. Gündogan is the motor-engine of the game in the midfield who connects the dots and gives a better sense to the ball-movement. Both Sané and Nolito are wingers who provides depth to the offensive line when deploying the game through the wings and pressuring the rival's backline.
#ManchesterDerby – Salir jugando con Claudio Bravo.
(jugada previa al gol de Iheanacho vs Man.Utd) pic.twitter.com/vy9jNpxsS0

— Paradigma Guardiola (@ParadigmaPep) September 14, 2016

Jurgen Klopp
It is also important to notice how Klopp has been able to discover new positional options on his roster. Players like James Milner and Joel Matip got out from their comfort zone (midfield) and are now in the backline. Is this a conservative move? No, it is not. These tactical movements allow the team to provide more depth on offensive transitions. A system that has brought benefits for the team collectively on offense. Liverpool FC are currently the league leaders in: goals (35), passes (8,523), shots (262) and shots on target (98).

The English Pillar is at White Hart Lane
After an amazing 2015-16 season, Tottenham Hotspur FC have established an identity in North London. All thanks to Mauricio Pochettino and his positional style of play and high-pressing defense.
Pochettino has installed a system in which every player has the chance to interact with the ball through triangles and horizontal possessions; one of the many systems that Guardiola wants to implement in Manchester City.
Last season, Tottenham showed an incredible balance on every line of the pitch both offensively and defensively. On offense, they were the league leaders in shots (659) and shots on targets (252) and second in goals scored (69). While on defense, they were tied for first place in goals conceded (35), third in tackles (805) and fifth in clean sheets (13).
They have been maintaining that defensive effectiveness so far this season. The team is in second place in clean sheets (6) and first place in goals conceded (10).
What these numbers are saying is that Tottenham has maintained a high-defensive efficiency while having their defensive line away from their goalie. Something that is antagonistic in comparison to the majority of Premier League teams nowadays.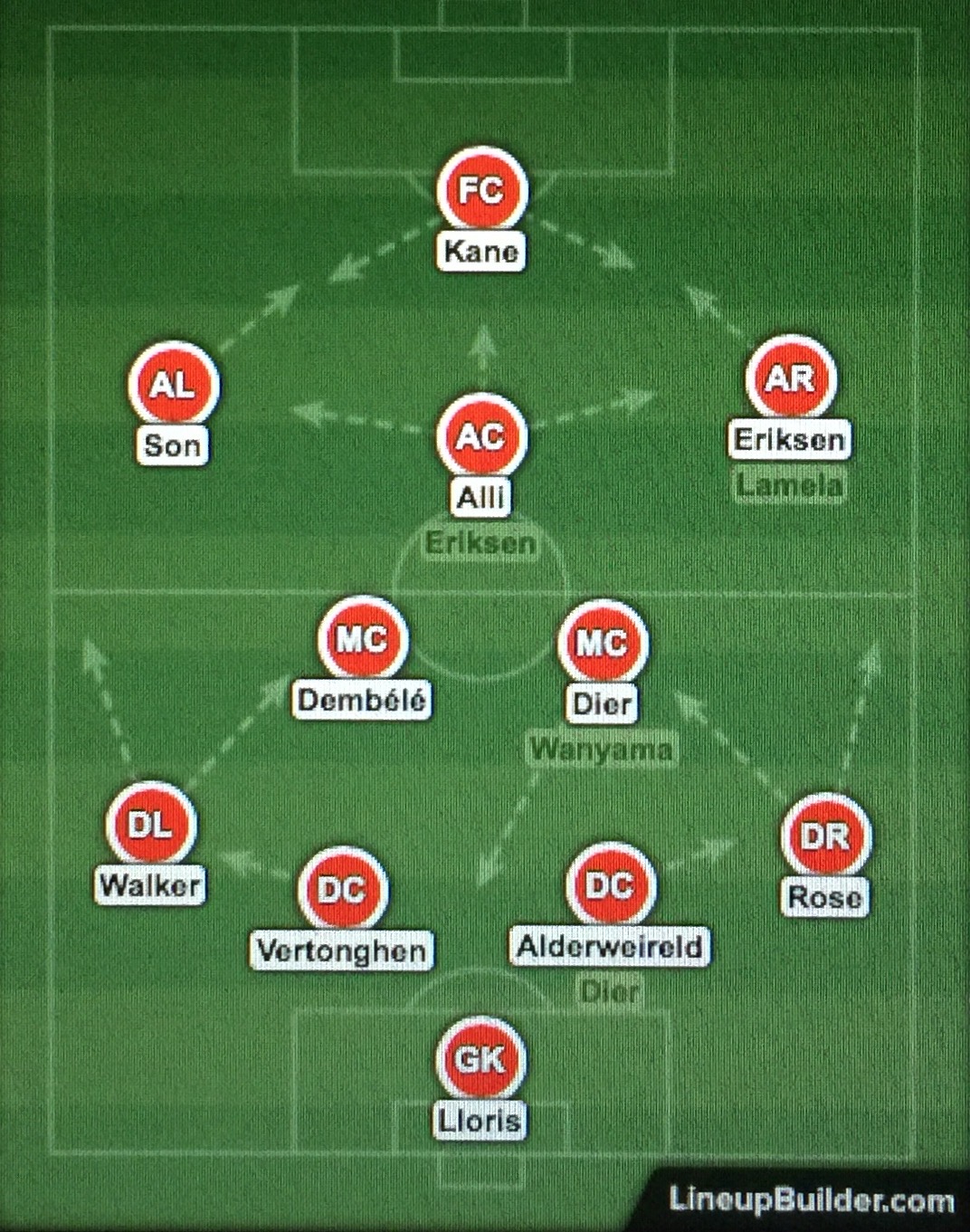 Superiority on the Field
The plan is to have superiority on midfield. They do this by letting Eric Dier go back to the defensive line an play as a third center midfielder. This switch gives the opportunity for the fullbacks – Kyle Walker and Danny Rose – to advance to the second line and play as interiors or wide-midfielders depending on the rival. Both fullbacks attract rivals to their new positions, so the attacking midfielder – most of the times is Dele Alli – has more space to work with the wingers and the center forward.