The Lightning are not off to a good start with their four-game home stand, losing to the Boston Bruins last night with a final score of 4 – 3. If the team has any hopes of redeeming this season and possibly putting themselves in the playoff picture, they need to make a move now. The Bruins are second in the Atlantic division, while the Lightning are ranked sixth after reaching the Stanley Cup final (2015) and Eastern Conference final (2016) in the previous two seasons.
Tampa started out strong in the first period, taking a 1-0 lead.  Shortly after, however, they gave up 2 goals in 2 minutes. Center, Alex Killorn scored twice to tie up the game, but Boston responded with 2 shots from Zdeno Chara and Frank Vatrano to close out the game.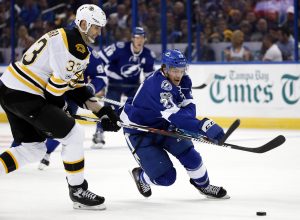 Lightning center Brayden Point returned for his first game back after missing 14 games due to an upper-body injury. Point scored a goal for the team in the third period. Alex Killorn agrees that the Lightning did not play a complete game, and failed to keep up momentum. The Bolts are now 22-23-6 on the season. They are six points out of the final wild-card spot.
https://twitter.com/TBLightning/status/826644998535864320
What's Next
The Lightning will take on the Senators tomorrow night at 7:30. Both teams are coming off a loss, and the Senators looking for a redeeming road win. The Lightning need to make something out of what's left of the season. If not, the sights may soon be focused on next season instead of the postseason.