The University of Miami Hurricanes men's basketball team defeated the Virginia Tech Hokies and improved to 6-5 in the ACC.
Canes WIN!

Make that four of the last five as Miami beats Virginia Tech. pic.twitter.com/jodt0rjUzU

— Canes Hoops (@CanesHoops) February 9, 2017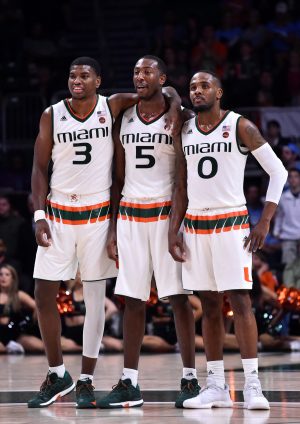 Canes
On Wednesday night, the Hurricanes had four players score in double figures. Davon Reed (middle) lead the show with 18 points and six assists.
Ja'Quan Newton (right) and Anthony Lawrence (left) also scored in double digits with 16 and 12 respectively. Newton and Lawrence each came down with four boards and both totaled four assists.
Kamari Murphy (bottom) had 10 points for the Canes on 5-6 shooting. Murphy also contributed with a block and a steal for the game.
Hokies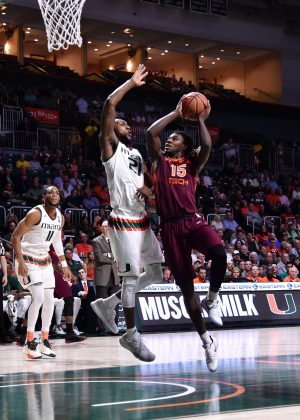 For the Hokies, Chris Clarke (left) had a total of 13 points, five rebounds, two steals and a team high four assists
Battling Reed for the team high in points is Justin Robinson (right) who scored 15 points for Virginia Tech.
The Canes and Hokies changed leads 11 times and both teams had shot over 45 percent from the field. The Hokies fought hard, but ultimately, Miami pulled away with a solid victory. 
Up Next For The Canes
The Canes next game comes Saturday as they travel to face the Louisville Cardinals for another ACC match up.
Canes Head Coach Jim Larranaga hopes his team plays more games like the one against Virginia Tech down the stretch.
After facing the Cardinals, the Canes will travel back to Miami and will have a two game home stand before heading back on the road.