The Santa Fe Saints women's basketball team beat the Broward Seahawks in a thrilling 85-79 win to advance them to the semifinals of the FCSAA State/NJCAA District Women's Basketball Tournament. Santa Fe head coach Chanda Stebbins said that this is a big win for her and the team.
Battle of the Guards
Going into this game Stebbins said that their main focus was on Seahawks point guard Nicole Jimenez.   Rightfully so, Jimenez finished the game with 34 points and six assists. All game Jimenez and Santa Fe's Ari-Emanuel Wright took turns scoring and facilitating the ball. But, Emanuel-Wright had plenty of help from post players Rayven Wade who finished with 26 points and 18 rebounds and Evalina Aveleeva's seven points and 12 rebounds. Stebbins made it clear that the team would have to stop Jimenez and come up big on with rebounds.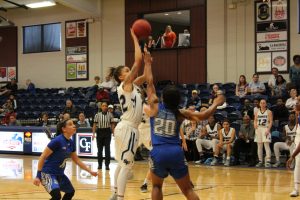 The Saints were able to do just that by out rebounding the Seahawks 49-35. Stebbins also said that the team would have to minimize turnovers; they committed 17, in comparison to Broward's 14. However, the Saints did take better care of the ball in the second half as six of those turnovers were committed in the second half.
Second Half Push
There is no denying that today's contest was a game of two halves. Although the Saints started the game off on a 9-0 run, turnovers and second chance opportunities gave the Seahawks a 12 point lead shortly after the start of the second half. But Emanuel-Wright and others battled to cut the deficit and eventually the Saints took the lead. The Saints came out of the locker room with momentum and firing on all cylinders. The Saints shot an impressive 43 percent from behind the arc and 86 percent from the free throw line. Coming out on top in those two categories helped push them to a victory.
Saints seal the deal with a final score of 85-79. They advance to play on Friday at 1 p.m @ESPNGainesville pic.twitter.com/W8mOwverL6

— Briana Maxwell (@Bree_Max03) March 8, 2017
Two days before taking on Chipola College, Stebbins said that her team will not do anything different to prepare. She said her team has been preparing for this moment since August. The Saints will play in the semifinals on Friday at 1 p.m. in Patriot Gym.