Over the last few months, arguably no team is hotter than the Miami Heat. With a brutal 11-30 start, it seemed as if the season would be one to forget. Yet, with a surging 23-6 record since Jan. 17, the Heat find themselves in contention for a spot in the playoffs.
Key Players Along the Way
During their incredible run, the Heat have gotten spectacular play from their stars. Averaging 20.3 points per game, 6.0 assists and 3.4 rebounds, point guard Goran Dragic has been everything the team hoped he would. Dragic has been a consistent play-maker on both sides of the ball, and he isn't afraid to sacrifice his body along the way.
Goran Dragić gets hit in the face more than a professional MMA fighter! pic.twitter.com/shBny6ur2h

— Sportinfo.si (@Sportinfosi) March 13, 2017
While Dragic has set the tone, other players have also stepped up. Center Hassan Whiteside has a been a double-double machine down low. The big man is averaging 16.7 points and 14.2 assists in a stellar season for the Heat. Guard Dion Waiters has also made an impact in only his first season in Miami, averaging 15.8 points and 4.3 assists. However, Waiters is likely out for the remainder of the regular season due to a left ankle injury.
Coach Spo gives a full update on Dion Waiters' ankle injury and rehab.#PORvsMIA game preview – https://t.co/mFTvqCrfe1 pic.twitter.com/MdH6lAaM8s

— Miami HEAT (@MiamiHEAT) March 19, 2017
The team will hope to have him back as soon as possible.
Looking Ahead
The Heat sit at an overall record of 34-36. With just twelve games remaining in the regular season, the team currently holds the No. 9 spot in the Eastern Conference standings. Although one game out of the playoff picture, the standings are extremely close. Indiana, Milwaukee, Detroit, Miami and Chicago all remain within three games of each other.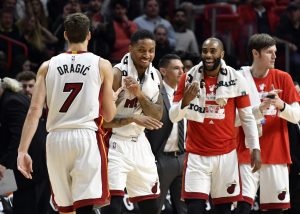 The Heat are set to face the Phoenix Suns on Tuesday night at American Airlines Arena. Then, the team will host the Atlanta Hawks on Thursday before a three game road trip to Boston, Detroit and New York. With the season winding down, the team will need every win they can get heading down the stretch.