The South Carolina Gamecock are continuing their march to the Sweet Sixteen in New York City after upsetting the second-seeded Duke Blue Devils 88-81 yesterday. This is the Gamecocks first time in the Sweet Sixteen since 1973. It has taken South Carolina 44 years to win a tournament game, and now they have two under their belt.
It had been 44 years since the Gamecocks won an NCAA tournament game.

Now, they're dancing in the Sweet 16. https://t.co/KhBKPCGryl

— SportsCenter (@SportsCenter) March 20, 2017
SEC player of the year Sindarius Thornwell stuffed the stat sheet with 24 points, six rebounds, and five assists. He was one of five South Carolina players in double figures. Looking forward, Thornwell says it's going to be tough facing off against Baylor but he has faith in his team and coach staff that they will be able to focus on the game to come.
DOWN GOES DUKE!

Sindarius Thornwell drops 24 as South Carolina upsets Blue Devils, 88-81, to advance to #Sweet16 vs Baylor. #MarchMadness pic.twitter.com/WZJyGpLd3U

— NCAA March Madness (@marchmadness) March 20, 2017
South Carolina's Head Coach, Frank Martin, says that while there is still more work to be done, he couldn't be more proud of his team and what they have accomplished. Martin says their key to success in the second half was attacking the rim and capitalizing on Duke's foul trouble. Ending the second half, the Gamecocks shot 71% and only missed eight shots.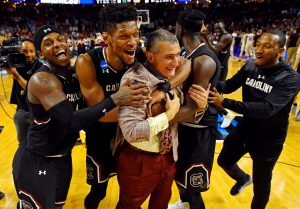 Next Up
South Carolina will join Florida, Wisconsin, and Baylor in New York City. The Gamecocks will now take on third-seeded Baylor (27-7) in the Sweet Sixteen at Madison Square Garden next Friday. Tip-off is set for 7:29 p.m.