With a loss to the Spurs, the Cleveland Cavaliers, now 47-26, are in second place in the East. They still have a good spot for the Playoffs, but it's not what they want.
What Happened to the Champions?
LeBron James injured himself at the end of the third quarter.  James took an elbow to the neck, leaving him on the bench for the rest of the game.  He was the leading scorer for the Cavs with 17 points.  The team shot 37.7 percent for the night, while the Spurs shot 47.7 percent.  That low shooting percentage led the Cavaliers to their lowest point total of the season in the 103-74 loss.
This isn't the first time the Cavaliers have taken a hard loss.  In March, the Cavs have lost to Boston, Miami twice, Detroit, Houston, Clippers, Denver, Washington and San Antonio.
"I'm still confident in this bunch and confident that we can turn it around."#CavsSpurs RECAP: https://t.co/hxzxKzuXdd pic.twitter.com/KEUEnP9yrs

— Cleveland Cavaliers (@cavs) March 28, 2017
The team is still confident in their run at the championship title again.  The team will have to regroup to get back to their usual selves.
Cleveland's strong trio of James, Love and Irving all started the game, but did not play in the fourth quarter.
The team has a strenuous March schedule, but James sees that as an excuse and he isn't for excuses.
The Cavaliers face the Bulls in Chicago next on March 30.  A win in this game could be the thing the team needs to get back on track.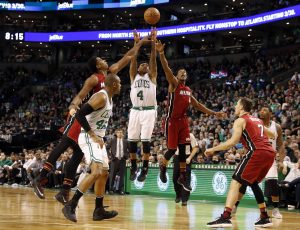 East Standings
Now that the Cavs are in second, the Boston Celtics are in first place by a half of game.
The Celtics are on a four-game winning streak and have scored more than 100 points in those wins. They play the Milwaukee Bucks on Wednesday, March 29.
A win against the Bucks will further lengthen the lead that Boston has in the East.