The No. 2 Florida Gator softball team (29-2) will host Bethune-Cookman University (12-23) tonight in a midweek matchup. Just two days prior, Florida saw their 21-game win streak end against the visiting Auburn Tigers. Florida may have lost the series finale, but taking the series 2-1 against a tough SEC opponent speaks miles for this team.
Tonight the Gators have the perfect opportunity to bounce back from the tough conference loss. The Gators boast a 15-2 all-time record against the Wildcats. Florida has also won six consecutive games against BCU dating back to 2006.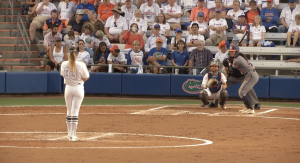 Pitching problems?
Gator pitcher Kelly Barnhill leads the nation with a 0.20 ERA this season after 68.2 innings pitched. Barnhill earned 16 strikeouts against Auburn during her Saturday outing, while senior ace Delanie Gourley gave up a solo homer to the Tigers in Monday's 1-0 loss. The homerun proved to be the only score of the game, which is a testament to the value of Florida's pitching staff.
The Gators have an opportunity to get back on track tonight against a Bethune-Cookman squad that leads the conference in team batting with a .291 average.
Meanwhile, Florida's bats will look to get going early themselves after being shut out earlier this week. BCU's best pitcher is senior Sabrina Anguiano with a 3.94 ERA.
First pitch from KSP Stadium is set for 6 p.m.