Jalen Tabor had another chance to improve his sub-par 40-yard dash time at Florida's Pro Day on Tuesday. However, he wasn't quite able to get the result he was looking for.
#Gators CB @_31Flavorz in prime form at #UF Pro Day despite slow 40. This Q&A is why he is one of my favorites: https://t.co/ltkyOMNYoL pic.twitter.com/UaDLvxE9oA

— Scott Carter (@GatorsScott) March 29, 2017
Overview
Tabor, a 6-foot, 199 pound defensive back, ranked 14th nationally with eight interceptions over the past two seasons and 33 pass breakups. Those 33 pass breakups are the sixth most ever at the program. Over his three years at Florida, Tabor played in 37 games, totaled 37 defended passes (which includes broken-up passes and interceptions) and recorded nine interceptions, with three of those being returned for touchdowns.
40-Yard Dash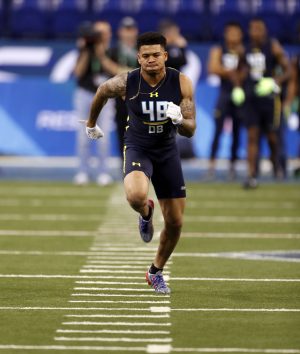 Tabor ran a 4.62 at the NFL Scouting Combine earlier this month, which then brought up the question of whether or not he should be drafted in the first round. But during Tuesday's Pro Day, Tabor's 40 time slipped into the 4.7s at Florida's indoor facility.
His time tied for the worst among cornerbacks in history.
But the The All-American Cornerback is still saying that he has one of the best resumes out there.
After Pro Day, reporters stormed over to Tabor to ask him about his 40 time. Instead, he decided to dismiss the question and bring up his films and how he will be in the league for many years.
The time for cornerbacks tends to range from a 4.55 to a 4.60. Anything slower tends to raise question marks for the players involved, as far as their draft stock is concerned.
NFL Combine
As far as his other drills at the combine, Tabor performed as follows:
Bench Press – 9 Reps
Vertical Jump – 31.0 inches
Broad Jump – 120.0 inches
Next for Teez
When asked what's next for him, Tabor said he is all booked up for the month of April. He is scheduled to meet with teams up until Draft Day. Tabor says he'll be watching the draft itself from the comfort of his own home.